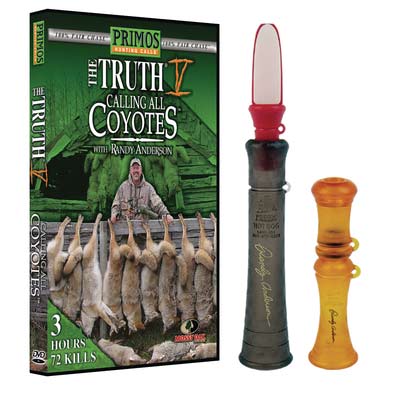 PREDATOR MASTER PAK WITH DVD
Randy Anderson and Primos® Hunting Calls™ have designed the perfect all-in-one pack for predator hunting. The TRUTH® Calling All Coyotes™ will help you learn Randy's unique style of calling in coyotes, using a combination of howl and distress calls. Randy Anderson will teach you how to use all of his signature series calls. We have included the Hot Dog™ and the Ki-Yi™ so you can follow along and master Randy's unique techniques.
Description
Order No.
Price
Order Now
Predator Master Pak
36-353
$37.95 - On Sale
$24.95
MASTERING THE ART® ELK MOUTH CALLS
This in-depth CD will teach you to Speak The Language® of elk. Listen and practice along as we give you instructions and tips on how to become an expert caller. Three easy-to-blow calls are included with the CD to help you figure out what type of mouth call suits you best. Includes CD, Mini Sonic Dome Double, Sonic Dome Single, Imperial Plate Double, Mouth Call Case.
Description
Order No.
Price
Order Now
Mastering The Art
Elk Mouth Calls
36-1651
$16.95 - On Sale
$9.95