THE COMPLETE WILDERNESS TRAINING MANUAL
By: Hugh McManners
One of the great philosophers is thought to have remarked, "Any fool can be uncomfortable" - probably after a washed-out camping holiday .Weather attempting to dry out your bedding on a rain soaked campsite, or trying to stay alive after some unexpected disaster, it helps immeasurably to know the basic principles of outdoor life. these include how tents and shelters are erected, choosing or making sleeping bags and beds, building a fire, and preventing or treating blisters and other health complaints. Understanding more specialized principles of survival, such as safe navigation across different types of terrain, or water purification, is as interesting and useful to recreational uses as it is vital and life saving to those unfortunate enough to become -"survivors". 9" x 7" Softbound - 192 pages
Description
Order No.
Price
Order Now
The Complete Wilderness
Training Manual
43-W0920
$14.95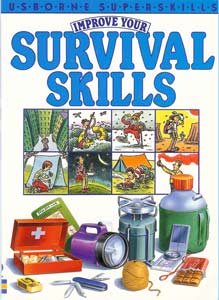 IMPROVE YOUR SURVIVAL SKILLS
By: Lucy Smith
Improve Your Survival Skills - is packed with reliable expert information, it will help you work through tricky situations, ranging from struggling through a snowdrift to dodging danger in a big city. There is a wealth of facts about survival kits, first aid , food, shelter and map-reading. Clear illustrations show how to get to grips with survival techniques. While stressing the importance of avoiding unnecessary risk. The book encourages you to develop initiative so that you can become a true survivor.
Description
Order No.
Price
Order Now
Improve Your
Survival Skills
43-S0542
$5.95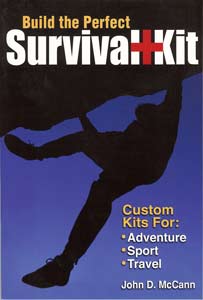 BUILD THE PERFECT SURVIVAL KIT
By: John D. McCann
When an unexpected emergency situation rears its ugly head, will you be up to the challenge? "I wasn't prepared for that!" will no longer be a valid response with the survival-kit-building methods in this book from survival expert John McCann. According to McCann, the secret to surviving any life-threatening crisis is being prepared through careful advance planning, and that means designing, building and carrying your very own customized survival Kits. 6" x 9" Softbound - 192 pages.
Description
Order No.
Price
Order Now
Building The Perfect
Survival Kit
43-M0762
$12.95
DESERT SURVIVAL HANDBOOK
By: Charles A. Lehman
Could you survive an emergency in the desert? Survival situations can and do happen to average people, as well as adventurous explores. You have the capacity to handle these situations if you know and follow the fundamental principles of survival. Carry Desert Survival handbook in your backpack, car, boat, airplane, or saddlebag as an extra confidence factor. if an emergency should arise, it will be a handy reference as you wait for rescue, for the weather to clear, or for the cool of the desert evening. 5 1/2" X 8 1/2" Paper Back 90 pages
| | | | |
| --- | --- | --- | --- |
| Description | Order No. | Price | Order Now |
| Desert Survival Handbook | 59-10653 | $8.95 | |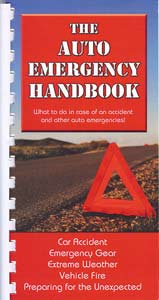 THE AUTO EMERGENCY HANDBOOK
By: Victoria Drake & Bruce Fischer
Are you prepared for any type of auto emergency? This book will help you to cope with auto emergencies such as accidents and bad weather. includes accident forms for drivers , passengers and witnesses. Keep this book in your glove box, it could save your life. 4" x 8" 80 pages
| | | | |
| --- | --- | --- | --- |
| Description | Order No. | Price | Order Now |
| The Auto Emergency Handbook | 59-10352 | $9.95 | |