MULE PACKING DECKER STYLE DVD
The thousands of hunters, horsemen and others who use mules or horses to pack into the back country now have a stunning 140-minute DVD available that shows in sharp, easy-to-understand detail how to pack mules or horses using a Decker pack saddle. This DVD offers step-by-step instruction featuring master instructor Bob Hoverson, author of the book "The Packer's Field Manual", a 192-page instruction companion book to this DVD. Filmed by videographer Roger Inghram, the DVD is complete as it could possibly be – broken down into seven chapters that take you visually right into the heart of packing technique.
| | | | |
| --- | --- | --- | --- |
| Description | Order No. | Price | Order Now |
| Mule Packing Decker Style - DVD | 91-53495 | $34.95 | |
The purpose of this packing field manual is to provide "state-of-the-art" basic instruction in the art of mule and horse packing. It is presented in a "field manual" size book so it may be carried in a saddle bag or other convenient location to be readily available for easy reference. Although this manual emphasizes the Decker Style of packing, much of the information presented will apply to any packing technique.This is not a "story book" but rather a source for specific information on equipment and techniques required for efficient mule and horse packing utilizing the Decker Packing Style. Special emphasis is given to Safety and Leave No Trace / Leave Only Tracks practices.
| | | | |
| --- | --- | --- | --- |
| Description | Order No. | Price | Order Now |
| The Packers Field Manual | 91-1422 | $19.95 | |
Here is a great way to spend the nights around camp. Knot Playing Cards teach more than 50 knots that every horseman and outdoorsman should know. Excellent detailed drawings give step-by-step instructions.
| | | | |
| --- | --- | --- | --- |
| Description | Order No. | Price | Order Now |
| Knot Playing Cards | 91-0161 | $9.95 | |
HOW TO MAKE COWBOY HORSE GEAR
By: Lee M.Rice
How To Make Cowboy Horse Gear is the answer t many request for hot-to- do- it information from cowboys, horseman in "shoy" business, dude ranches, and many other people interested in riding horse and their gear. Bridles, Hackamores, Reins, Reatas, Quirts, and riding crops are among the articles of gear that can be made using this well-illustrated book as a guide. Most of the pieces described here are made of rawhide: however, leather thongs and plastic string can be worked in the same manner. 8 1/2" x 5 1/2" - 186 pages Soft Cover.
Description
Order No.
Price
Order Now
How To Make
Cowboy Horse Gear
43-H0137
$12.95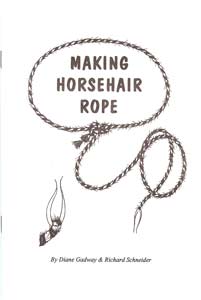 MAKING HORSEHAIR ROPE
By: Diane Gadway & richard Schneider
The process of making rope is one of twisting and spinning, similar to spinning yarn from wool. The direction in which the strings are twisted is very important. The strings are twisted in one direction. The strands (made of four strings each) are twisted together in the opposite direction. The finished rope is held together with counter twisting forces.This book shows you how to make the tools, prepare the hair, spin the strands, knot and tie and finish a beautiful hand made horse hair rope. Soft Bound 8 1/2" x 5 1/2" - 24 pages.

| | | | |
| --- | --- | --- | --- |
| Description | Order No. | Price | Order Now |
| Making Horse Hair Rope | 43-M0073 | $7.95 | |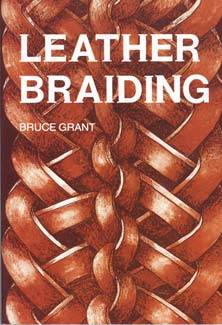 LEATHER BRAIDING
By: Bruce Grant
Leather Braiding has stood for more than forty years as the definitive book in its field. Grant's clearly written guide to the art of leather braiding contains detailed illustrations, step-by-step instructions and a wealth of incidental, fascinating information. The book makes accessible to even the novice serviceable and recreational use of leather, from the simple but clever braided button to the elaborate results of thong applique. Included is a historical perspective of leather and its function in society, a chapter on leather braiding tools, and a glossary of terms. Soft Bound 9" x 6" -173 pages.
| | | | |
| --- | --- | --- | --- |
| Description | Order No. | Price | Order Now |
| Leather Braiding | 43-L0005 | $9.75 | Out Of Stock |