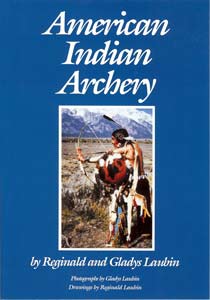 AMERICAN INDIAN ARCHERY
By: Reginald & Gladys Laubin
A methodically researched and interestingly presented work, whose title does not do credit to its contents. There are chapters on comparison of bows, making of bows, making of arrows and comparisons between Indian and English archery. The illustrations are excellent and in sufficient detail so that one if he wished could make his own bow.
| | | | |
| --- | --- | --- | --- |
| Description | Order No. | Price | Order Now |
| American Indian Archery | 62-3875 | $20.95 | |
MAKING ARROWS THE OLD WAY
By: Doug Wallentine
A text on everything you need to know to make attractive and functional Native American Arrows. Featured in an easy to follow text, together with numerous illustrations and photographs. While the primitive methods are stressed, modern techniques are also explained. The book explores in detail every thing from selecting the proper woods to finishing arrows. Written for the beginning craftsman, with over 30 illustrations, photos and diagrams. This book will be invaluable to the one interested in traditional weapons and Native American culture. 28 pages
| | | | |
| --- | --- | --- | --- |
| Description | Order No. | Price | Order Now |
| Making Arrows Trh Old Way | 62-50550 | $5.50 | |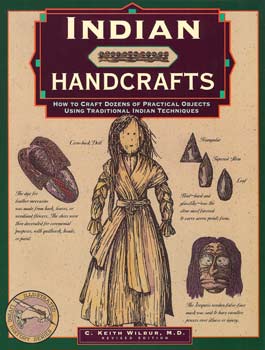 INDIAN HANDCRAFTS
By: Keith Wilbur
For thousands of years the Indians of the Northeast lived by their wits, fabricating the articles needed for daily life from materials they found in nature. Now you can reproduce these authentic objects by following the clear, step-by-step instructions in this richly illustrated book. Indian Handcrafts explains how each object evolved, how it was used, and what tools and materials you need to re-create it. C. Keith Wilbur carefully researched the methods described and actually made and tested each of the handcrafts. All the necessary supplies, he says, can be found free of charge, in the great outdoors - just as the Indians did! You can learn how to shape a duck decoy from dried cat-o-nine tails, bend and lash green saplings to form a wigwam frame, use porcupine quills to apply natural dyes to your handmade moccasins, build a rubbing stick so you can start campfires 'from scratch' and much more. This intriguing book preserves authentic Indian handcraft methods and serves as an en during tribute to Native American ingenuity and craftsmanship. (8 1/2 x 11, 144 pages, illustrations)
| | | | |
| --- | --- | --- | --- |
| Description | Order No. | Price | Order Now |
| Indian Handcrafts | 43-N0427 | $16.95 | |
TIPI'S - TEPEES - TEEPEES
History and Design of the Cloth Tipi
By:Linda A. Holley
Tipi's can be found all over the world in dozens of cultures. These fascinating dwellings are experiencing a resurgence in popularity because of their unique qualities: they are easy to transport, comfortable to live in for long periods of time, and weather resistant. Linda Holley explores the many different methods of tipi construction and includes dozens of drawings, photographs, illustrations, and diagrams that show how to construct, decorate, and transport a tipi.
Subjects include: History of the tipi, Construction, Poles, Pitching a tipi, Living in a tipi, Decoration Materials, Transportation, Today's tipi camp.
| | | | |
| --- | --- | --- | --- |
| Description | Order No. | Price | Order Now |
| Tipi's, Tepees, Teepees | 10-55116 | $16.95 | |