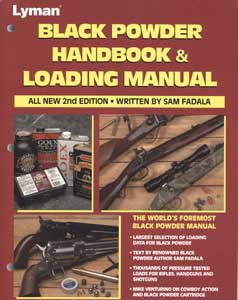 BLACK POWDER HANDBOOK & LOADING MANUAL
By: Sam Fadala
Lyman is proud to announce the introduction of the all new 2nd Edition Black Powder Handbook. Lyman has teamed up with "Mr. Muzzleloader", Sam Fadala to produce the most comprehensive black powder manual available. This manual is entirely new, from the ground up, and includes thousands of pressure tested loads using Goex and Elephant black powders, Pyrodex RS, Select and P, and Pyrodex Pellets, along with a large assortment of round balls, conicals and sabots. Over three years went into the development of this data. Don range velocities and energies are also given for each load.
Sam Fadala brings his well known expertise to this work, covering such topics as choosing your muzzleloader, building the best loads, propellant, ignition, maintenance and much more. In addition, black powder cartridges are well covered with the help of Mike Venturino. There are also hundred of pressure tested black powder cartridge loads for calibers as the 45-90, 45-100, 45-110 and 45-120. Cowboy action calibers such as 44-40, 45 Colt and 44 Special are also covered in both handguns and rifles. This is one manual all black powder shooters should own.
Description
Order No.
Price
Order Now
Black Powder Handbook
and Loading Manual
66-690
$19.95
THE MUZZLELOADING RIFLE HANDBOOK
By: The NRA
This handbook, by the NRA, includes such topics as muzzleloading rifle parts and terms, types of black powder, safety, fundamentals of shooting, shooting positions, cleaning and storage. 70 pages.
| | | | |
| --- | --- | --- | --- |
| Description | Order No. | Price | Order Now |
| The Muzzleloading Rifle Handbook | 53-3000 | $4.50 | |
HOW TO LOAD, SHOOT & CLEAN
YOUR MUZZLELOADER
DVD
This new video includes : How to Load, Shoot and Clean all Traditions Muzzleloader Rifles including the new Bread-Open Models. This 100 minute video is very informative and includes helpful tips to have a successful hunt. A great gift idea and learning tool for young shooters and newcomers.
Description
Order No.
Price
Order Now
How to Load, Shoot & Clean
Your Muzzleloader - DVD
53-1093
$5.50