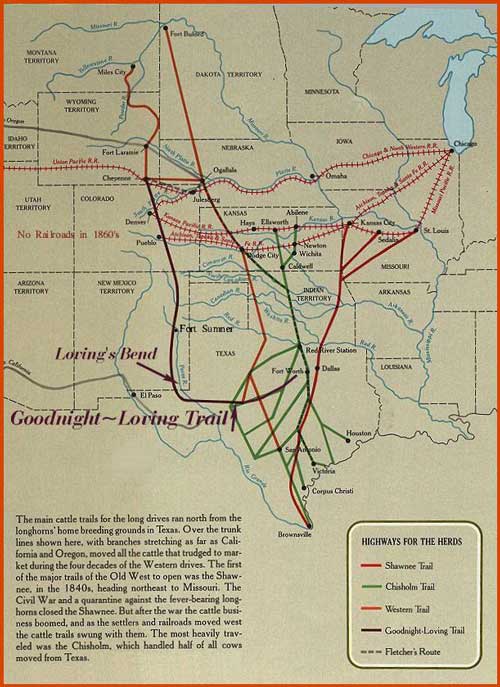 GOODNIGHT LOVING CATTLE TRAIL
THEN AND NOW
By Angel Mayes
The Great Plains located in the region of Southwestern portion of the United States included parts of eastern New Mexico and northwestern Texas. The Great Plains is so vast to the eye it is impossible to find their limit, no land marks, not a tree, a shrub, just flat land covered with thick layers of alluvial material.  It is also known as the Staked Plains or the Spanish equivalent, Llano Estacado, located in the Southwestern United States.The Llano Estacado is an arid climate, hot summers and cold winters.  Rainfall is extremely low, evaporation high thus making dry farming extremely difficult.
The people of the early New Mexico territory were primarily farmers, growing crops as well as raising some sheep and cattle.  Cultivation continued in parts of New Mexico including Arizona where water was available for irrigation until around 1863.  The economic life for the cultivators was disrupted by the American Civil War and subsequent Indian unrest turned the territory of New Mexico to raising cattle.
The Beginning: 
The Spaniards brought the first cattle to New Spain (Mexico) in the early 1500's.  The Spanish moved northward into what is known as the Southwest, to establish missions in hope of taming the Indians.  However, when Mexico won its independence from Spain in 1821, the mission system collapsed, thus leaving behind heads of Longhorn Cattle roaming the open range. 
During this era the transportation system was not as we know today, there was no railroad, highways, or air travel.  The only way to move from one place to another depended on pack animals and/or cattle that could stand up to the harsh means of travel.  It didn't take long to figure out that cattle were the only product that provided their own transportation to market.  The Texas Longhorn, as they became known, where a fusion of the Spanish and Southern stock and every bit wild.  The longhorn cattle where equal to none when it came to trail herding.  Their hoofs are superior to those of other cattle.  In stampedes they hold together better, are easier circled in a run, and rarely split off when you commence to turn the front.  The Longhorn can go farther without water and endure more suffering than others.  The Longhorn provided a means of their own transportation and where up to the task of long trail drives. 
Two individuals Charles J. Goodnight and Oliver Loving pioneered the cattle drives in the early day.The two individual men worked hard to be successful farmers, businesspersons, and cattle herders. Both Goodnight and Loving ran individual cattle drives until 1866 when they joined forces, developed a partnership and long lasting friendship, thus creating what we call today "The Goodnight-Loving Trail".
Charles Goodnight (1836-1929)
Charles Goodnight (Goodnight) born in Macoupin County, Illinois in 1836, at the age of ten moved with his family to Waco, Texas.  By the time Goodnight was twenty he entered the cattle business on the northwest Texas frontier.  The Civil War interrupted Goodnight's cattle business and in 1857, he joined the Texas Ranges and fought for the Confederacy.
When the war ended, Goodnight returned to Texas, joined a large group of men, and began helping in a statewide roundup of up of cattle that had roamed free during the four long years of war.  Goodnight with a new herd of longhorn cattle began to question how he would bring them to market, the market being somewhere outside the war-ravaged South and head further west, where beef was in high demand.  Goodnight's decision to head west toward New Mexico and Colorado was made, despite the fact that getting there would mean driving the herd across waterless stretch's, minimal provisions of firewood, and Indian dominated territory. In 1857, Goodnight herded his cattle up the Brazos River to the Keechi Valley, in Pal Pinto County, Texas. During this time Goodnight became acquainted with fellow cattleman Oliver Loving. 
Oliver Loving (1812-1867)
Oliver Loving (Loving) born in frontier Kentucky in 1812, moved with his family by flatboat down the Mississippi River to the Republic of Texas.  Loving first set down in Texas along the Red River, the northern boundary of the state in Lamar County.  Loving was a cowman who considered himself a Texan and the first man to trail cattle out of Texas.
In 1840, Loving thought the grass was greener elsewhere, and he soon took his family to Collin County, several miles outside the town of Dallas.  There he applied for his first land grant, and was patented 640 acres in 1850.  By 1857, Loving owned a thousand acres in future Palo Pinto County, Texas where he began his cattle operations.  Lovingcapitalizedon the vast herds of wild Spanish cattle roaming the whole of Texas and began moving herds to the east. These first trail drives were short trips, eastward to Shreveport and New Orleans at that time the only safe markets form Indian raids. The cattle sold where generally processed into tallow and shipped abroad.  It wasn't long before these routes were overworked and the number of cattle delivered surpassed the demand. 
Loving became restless and pioneered a more dangerous plan of driving herds through hundreds of miles of Indian controlled territory.  Fierce tribes of Indians controlled all areas west and north of the Texas settlements. Fierce Indian raids did not ward off Loving and in August 1860, he began a cattle drive with 1,500 Longhorn cattle toward Denver, Colorado to feed miners in the area.  Loving drove the stock by Las Vegas, and kept a northerly course until he crossed the Ration Range; from there he skirted the base of the Rockies, crossed the Arkansas near Pueblo, and in the vicinity of Denver sold his cattle to the great Western ranchman, John W. Iliff.
They Join Forces:
In 1866, the cattle markets were inadequate for the available cattle and Goodnight and Loving wanted to capitalize on the need for cattle at Fort Sumner, New Mexico, where some 8,000 Indians had been settled. Both knew the drive would be a dangerous one, traveling across hostile Indian country, however, June 6, 1866, they joined forces organized a cattle drive with 2,000 head of mixed cattle and 18-armed men and began the dangerous drive. The Cattle drive ran southwest from Fort Worth to the Pecos River, entering New Mexico just south of present-day Carlsbad, New Mexico and then followed the river valley toward markets at Fort Sumner and the Bosque Redondo Indian Reservation. This route (trail) would go down in history as the Goodnight-Loving Trail. Upon reaching Fort Sumner, they sold their cattle to the army for $12,000 in gold.  Loving continued to drive the rest of the heard to Denver, while Goodnight returned to Texas for a second herd. 
The following year (1867) they set out again. In June, Goodnight stayed with the herd while Loving went ahead with one companion to get to Denver in time to bid on the lucrative government contracts that were to be offered in July. Although Loving promised Goodnight that he would not travel by day (the territory was full of hostile Indians) he got impatient after a couple of days and struck out in daylight. By the afternoon they were being chased by a band of several hundred Comanche's. They made for a nearby river where the banks were more than 100 feet high, left their horses, and hid themselves among sand dunes and reeds.
The Indians had them pinned, but it is extremely difficult to deal with two well-armed men in a strong position. During an attempt at a parley Loving was wounded in the side and sustained a broken arm. Thinking that he would die from his wounds, he asked his companion to sneak away. The companion, leaving most of the guns and ammunition with Loving, managed to slip away by swimming down the river with no supplies, wearing only his underwear. He holed up in a cave a day's journey back toward the herd and waited for the herd to arrive. Within three days they found him, starving, and heard his tale. Goodnight took a party of men to the spot where Loving was last seen, but he could not be found and they supposed the Indians had killed him and thrown his body into the river. In fact Loving, when the wound in his side hadn't killed him after a day, managed to slip out the same way his companion did and made it to a road. After five days with no food, he was picked up by a party of Mexicans and taken to Fort Sumner for medical attention.
The broken arm had to be amputated, but the doctor there was reluctant to do so until Goodnight and his men arrived.  Upon arrival Goodnight, the mortification was clearly gaining in the broken are and they sent to Santa Fe for a doctor to amputate. The arm was amputated, but the gangrene had already reached his body. Goodnight sat by Loving's bed during the two weeks it took him to die, and reportedly kept a photograph in his pocket long after Loving' death.  Loving died September 25, 1867.
Before Loving died he expressed sadness at being buried in a "foreign country". Goodnight promised to take the body back to Texas. He had the body temporarily buried while he completed the drive, then returned, had it exhumed, and put his wooden coffin into a casket made of flattened tins. The long journey back to Texas inspired the story, Lonesome Dove.
Later Days
After Goodnight mastered ranching he became involved in other activities, including the establishment of his Goodnight College in Armstrong County and working as a newspaperman and a banker.  In 1870 Goodnight married Mary Ann Dyer, a teacher from Weatherford, located west of Fort Worth.  For several years following their reunion Goodnight had considerable financial success, having invested in real estate, buying town lots, and even becoming part owner of the opera house.  Molly died in 1926 and Goodnight became very ill and eventually was nursed back to health by a distant cousin. 
Goodnight was determined to live to lives fullest and on his ninety-first birthday, March 5, 1927 he married Corinne Goodnight.  About two years latter Goodnight passed in 1929.  He is buried next to his first wife, Mary Ann Goodnight, in Goodnight Cemetery near Amarillo, Texas.
Tid-Bits:
Chuck wagon:
While some form of mobile kitchens had existed for generations, the invention of the chuck wagon is attributed to Charles Goodnight.  Goodnight modified the Studebaker wagon, a durable army-surplus wagon, to suit the needs of cowboys driving cattle from Texas to sell in New Mexico. 
Song:
Goodnight-Loving Trail (song) a song by country artist Utah Phillips, this song describes a chuck wagon cook on a cattle trail.
Words to the Song
"Too old to wrangle or ride on the swing, you beat the tri-angle and curse everything; 
If dirt was a kingdom then you'd be the king. 
On the goodnight trail, on the Loving trail, our old woman's lonesome to night. 
Your French harp blows like a lone howling calf,
It's a wonder the wind don't tar off your skin.  Get in there and blow out the light.

With your snake oil and herbs and your liniment, too,
You can do anything that a doctor can do,
Except find a cure for your own goddamn stew.

The cook-fires out and the coffee's all gone.
The boys are up and we're raising the dawn,
You're still sitting there all lost in a song.

I know someday that I'll be just the same,
Wearing an apron instead of a name,
But no one can change it and no one's to blame.

Cause the desert's a book wrote in lizards and sage,
It's easy to look like an old torn-out page,
All faded and cracked with the colors of age".
Goodnight's Home:
The Goodnight home is located on-quarter mile south of U.S. Highway 287 and about 40 miles east of Amarillo, Texas.  The home was renovated by the Armstrong County Museum from 2006 – 2012.  The house has been included in the National Register of Historic Places. 
Goodnight in Literature:
In 1935, six years after Goodnight's death, Laura Vernon Hamner, who knew Charles and Molly Goodnight, published a novelized biography of the cattleman, The No-Gun Man of Texas.
Larry McMurtry's Pulitzer Prize winning novel Lonesome Dove is a fictionalized account of Goodnight and Loving's third cattle drive.  Though the characters have personalities rather different from their real-life counterparts, the novel borrows heavily from actual events, in particular Loving's ambush by Indians, and goodnight's attentive care as Loving died from an arrow-induced infection.

The Western novelist Matt Braun's novel Texas Empire is based on the life of Goodnight and the founding of the J.A. Ranch.

In James A. Michener's book Centennial, the Skimmerhorn Trail is based on the actual Goodnight-Loving Trail.  In addition his name is mentioned in the novel and the character R.J. Poteet appears to have been based on Goodnight.
State Monuments:
In 1968 one hundred years after the signing of the treaty allowing the Navajo people to return to their home land, Fort Sumner was declared a New Mexico State Monument.  The property is now managed by the New Mexico State Monuments Division of the New Mexico Department of Cultural Affairs.  In 2005 there was built a new museum designed by Navajo architect David N. Sloan and was opened on the site as the Bosque Redondo Memorial.
The Bosque Redondo Memorial and Fort Sumner State Monument are located 6.5 miles southeast of Fort Sumner, New Mexico:  3 miles east on U.S. Route 60/U.S. Route 84, then 3.5 miles south on the Billy The Kid Road.