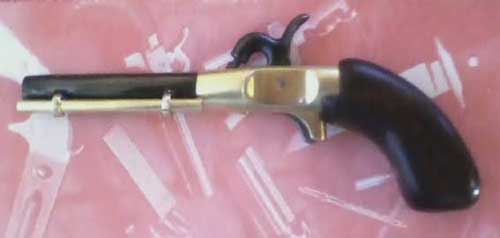 BERNARD'S ACE
Overall it was a fun kit to build. Thanks Again
Bernard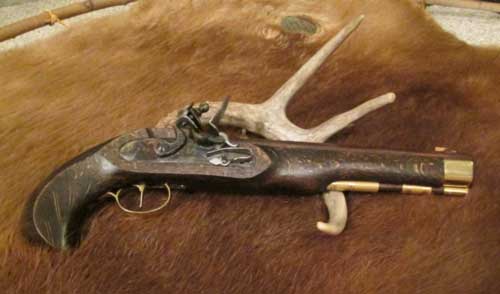 JASON'S
KENTUCKY FLINTLOCK PISTOL
Don, I just finished the Traditions Kentucky Pistol Kit and am very happy with it.  I am looking forward to shooting it soon.  The only real difficult part I had was getting the rust brown finish how I wanted it, but that's just because this is my first kit and the first time I tried to use a rust brown finish on anything.  That's alright though since this is going to be a working gun and see plenty of time in the woods.  I'm going to keep researching and experimenting on that type of finish since it is my favorite on these old guns.  Everything else went great and it was actually easier to put together than I thought it would be.  As soon as I save up some more spending money I'm going to order another pistol kit from you so I have a matched pair and hopefully, a Kentucky rifle kit to match the pistols someday.  Feel free to use any of the pics on your website.  Thanks again for the great service and products.

DICK'S DEERHUNTER RIFLE
Here is the finished "Deerhunter" model in 50 caliber. I decided this was going to be the one for muzzle loading season and I wanted to keep it as dark as I could. The barrel is painted black and I used a spray paint that did not need primer, XO-Rust gloss black. Really hard finish.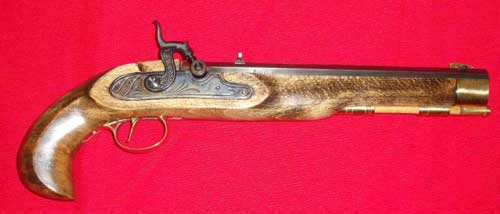 MIKE'S KENTUCKY PISTOL
I finely finished my Kentucky pistol kit and included a photo. Now I am looking forward to purchasing and building another kit but haven't decided which one.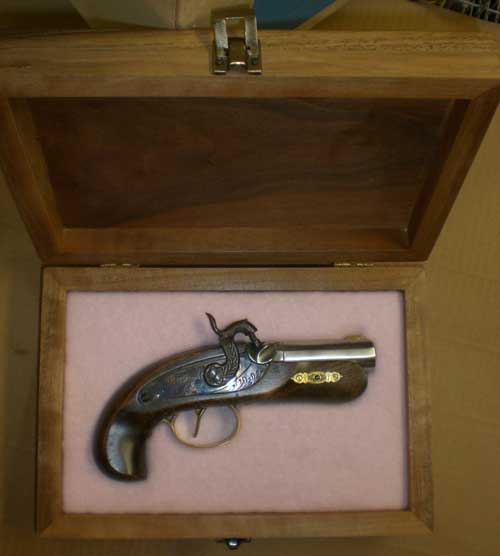 GEORGE'S DERRINGER
I built a display box from the last piece of walnut that I had left from a tree that was cut down in about 1978 when I was farming. 

DAN'S KENTUCKY RIFLE
Dan from Wisconsin built this fine looking Traditions Kentucky Rifle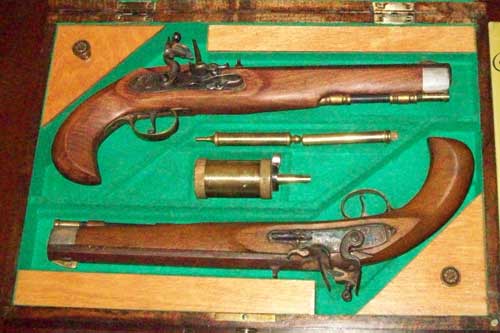 GREG'S PISTOL SET
Don,
Back in June you requested that when I completed the Traditions Flintlock kit I had purchases from you that I send pictures and a write up on the project.  Well it is done and I am very happy.  Just for reference, the new pistol is the one at the top of the box.  It was enjoyable to build and the case with the two pistols will stay with the family.  Thanks for a great product.

DAN'S KENTUCKY RIFLE
Dan, from WI. recently built this Kentucky Rifle from one of our Traditions Kits.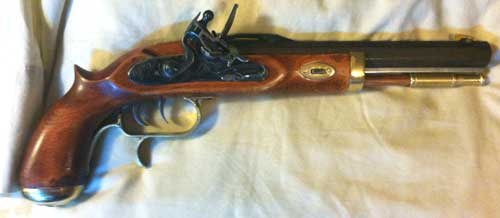 JASON'S TRAPPER PISTOL
Here is a picture of the Trapper pistol kit I bought from you. It looks nice and shoots great.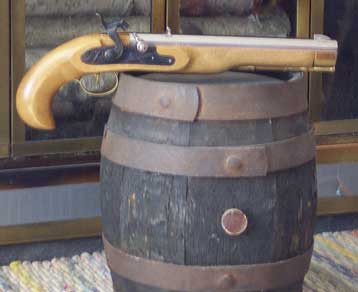 DICK'S .50 CAL KENTUCKY PISTOL
Don, Here is the finished Kentucky Pistol from the kit. I had the barrel nickel plated to make it easier to keep the rust from forming. It's the 50 cal. model and using 25 grains of Pyrodex RS, keeps all the shots in a 3 inch circle at 20 yards. Now that I have the adjustable powder measure, hope to improve on that some. Great product and easy to work with. By the way, the powder barrel is dated 1863. Just thought they went together pretty good. Dick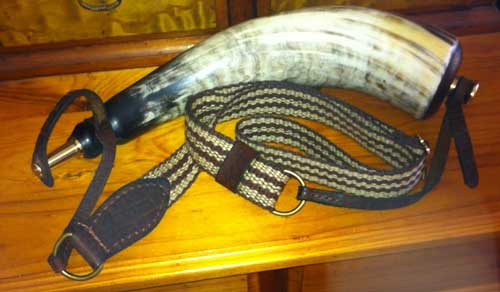 TONY'S POWDER HORN
A great looking Powder Horn with the Leatherman Powder Horn Strap.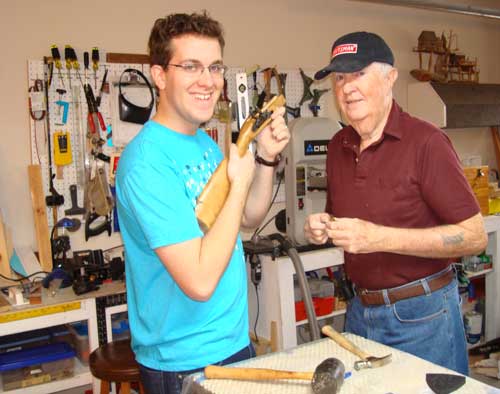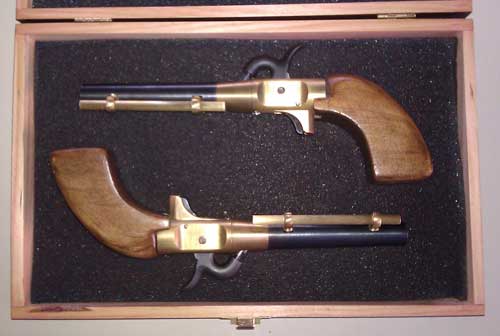 "GRANDSONS OF SONS"
Dear Possible Shop,
This is my second year in purchasing from you. I am so pleased with your quick turn around and effective service.
Every year I use you to find and build a project with my Grandfather. We have aptly named ourselves, 'Grandsons of Sons' after the popular Discovery Channel show.
Attached are additional pictures of our first build, the Traditions Kentucky Longrifle Flinlock kit and new pictures from our second build, the Classic Arms New Orleans Ace kit that we turned into 'Grandsons of Guns' dueling pistols.
We have enjoyed these projects immensely and we hope you enjoy these pictures and add them to your web site.
Thanks again, Patrick

JIM'S TRAPPER PISTOL
Shoots Great. Jim
JASON'S KENTUCKY RIFLE
Don. I am sending you a picture of my Kentucky Rifle kit I ordered from you. It took some time but it turned out nice and i will gladly order from you again Jason.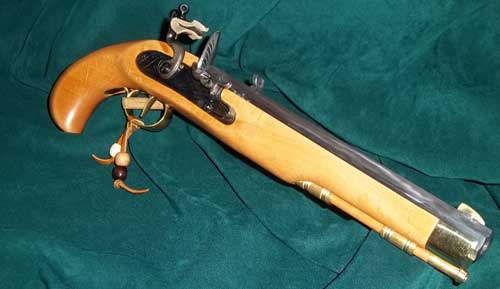 ARIE'S - KENTUCKY FLINTLOCK PISTOL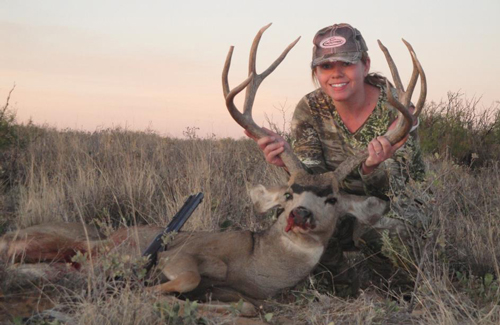 LACEY'S BUCK
Lacey's Buck - Was taken in Chaves County New Mexico with a .50 cal. Pedersoli Rifle
Nice Buck Lacey

MIKE'S SMOKEPOLES
Hi Don,
Thank you for the quick shipment of my .45 cal DeerHunter kit rifle by Traditions! I finished the kit in two days easily. These are excellent kits. Very little fitting needed. The only real trouble I had was finding why the lock would not go to full cock. I kept shaving wood, until it became obvious that the problem was not a wood fitting issue at all. All I needed to do was shorten the screw behind the hammer by a couple threads!This is my second .45 cal smokepole, I was given a beat up "Kentucky" botch job, (from a no-name kit), and I managed to save it by shortening the barrel and stock and adding a brass band to the stock to hold the barrel in place. I had to build a custom front sight for it, after chopping back the barrel, with a 1 in 66 twist, it shoots round ball fairly nice to about 75 meters.
I plan on shooting 190 grain Buffalo .457" pistol bullets from the Traditions DeerHunter. I was happy to find an inexpensive sidelock in .45 cal with the 1 in 48" twist. Everyone seems to build a .50 cal, and no one makes the .45 cal any more .I don't understand that, almost like no one making a 30-30. LOL. Thanks again, I may just have to order another! This was way too much fun.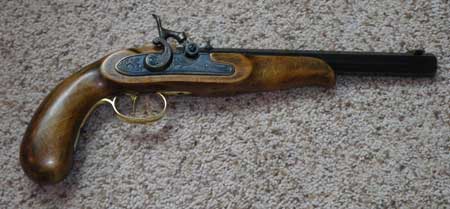 DAN'S CROCKETT PISTOL
Hi Don,
Well I finished the Crockett pistol.
The process of putting the kit together was very straight forward. I spend some time sanding the stock to allow proper fit of the side lock and barrel. Everything came together well and the instructions were easy to follow. Once the dry-fit was complete to my satisfaction, I disassembled the pistol and embarked on finishing the stock. I used the Miles Gilbert system for finishing the stock. I decided to go for a more rustic look and thus sanded the wood with progressively finer sand paper, finishing with 220 grit. I then filled the wood and "spot" sanded this to get the look I was after. I then finished the stock by adding 20 coats of finish followed by finishing the finish through polishing with rotten stone. For bluing, I utilized the Birchwood Casey system, which again, was very straight forward. Overall, the kit was easy to assemble and with some attention to detail during the entire process, I am very happy with the final product. I have not had the opportunity to fire the pistol yet but hope to in the very near future. Since this was my first attempt at doing something like this (assembling a this type of kit) I decided to start cheap and easy. Well, I am now thinking about moving to a Hawken style rifle! I am hooked!Dan

JOHN'S BOWS
Don,
As you know the first bow kit, 45# @ 28", arrived but it wasn't what I ordered. I would have kept it if I was sure it could handle my 32" draw length but you volunteered to replace it at no cost with the 45# @ 32" that I ordered. You also told me to keep the other one and donate it which came a quite a surprise.
I've finished both bows, the natural finish one will be donated in The Possible Shop's name to a fund raiser for the conservation association I belong to and I plan you shoot the cherry stained one which is 76" long and almost as tall as me.
Thanks again for the extraordinary service,
John
PS - If anyone is interested in checking out the association you can visit here
http://www.spfga.org/


GLENN - KENTUCKY FLINTLOCK RIFLE
Here are a couple pictures of the flint lock kit i got from you. As soon as it stops raining I'm going to see how good it shoots .I will be sending a couple emails i cant figure out how to attach a couple pictures to one email. But I can build a gun ... thanks Glenn.

DICK LA BROSSE - ST LOUIS HAWKEN RIFLE
The only modification I made was to the butt plate.  I didn't want to do anything to the wood to get a fit.  So I drilled and counter sunk an additional hole in the center.  I put in one screw and slowly drew it up tight to the wood.  After sitting over night, the brass shaped itself to the stock.  Then all I had to do was a lot of filing.  I also used antiqued brass screws instead of the black ones in the kit. As far as I am concerned, the kit is an excellent product.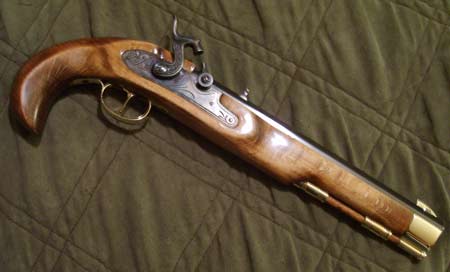 TOM - KENTUCKY PISTOL
I shot it for the first time yesterday...nice 2in groups at 12 yds. The close up of the trigger guard area shows some of the detailing ...I polished and blued the metal that supports the trigger and even the screws showing through. All the brass was polished to a high shine as well. This was built from the Traditions kit and am now looking at the Hawken or the Kentucky rifle.
Thanks Don. Tom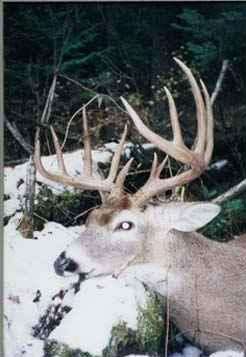 PENNSYLVANIA - DECEMBER HUNT
Dale in PA shot this Buck with a Pedersoli Kentucky "Bounty" - .50 Caliber Flintlock Pistol on a December 2009 hunt.
Dales Comments: Got one! Pistol did great with barnes TMX 245 gr and 40 grs of fffg. 50 yard groups under 3 inches. How about this for a january buck. Thank you from a very proud and happy hunter/customer. Dale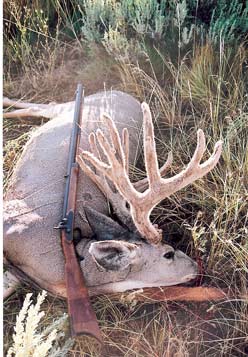 COLORADO - SEPTEMBER HUNT
Mitchell in CO shot this Buck with a J. Hall Sharon Rifle. .54 cal Percussion
Mitchell Comments: Thanks for all the help. This 8 x 4 plus 3 eyegards Buck was taken with my J. Hall Sharon .54 cal rifle. 95 gr. FFF with 425 Great Plains Bullet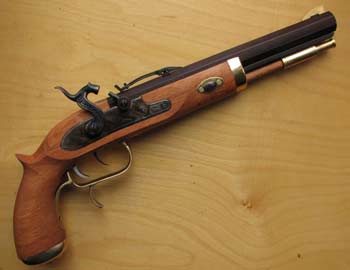 JOHN SIPLE - TRAPPER PISTOL
This went a lot faster than I thought it would. I actually finished the pistol kit in a weekend. I would strongly advise kit builders to take their time and work slowly though. There are many chances to screw things up. This Traditions kit had nicely finished brass and the barrel and lock fit well in the stock after a bit of work on the lock cutout. I blued the ends of the cut off lock screws and buffed the ramrod ferrule but the other metal work is straight out of the box. The trigger and lock were perfectly adjusted. Too bad I don't hunt.  This is the pistol with a browned barrel. I've taken it to the range twice now and it's a very accurate shooter, but rather heavy in the barrel so not easily held on target. also, 30 grains by volume is plenty, though some sources say the maximum load is something like 45 for this gun.
John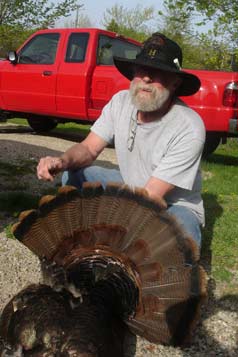 DAVE - GREAT HUNT
Don, I received my 1st issue of Chronicle of the Old West and I am enjoying it very much. I am enclosing pictures of a turkey I took in the spring with a Pedersoli side by side muzzle loading 12 gauge and 2 deer taken in November with a Traditions 50 cal Kentucky longrifle. I got the doe in the morning and the buck in the late afternoon from the same ground blind. I enjoy going to your web site and looking at everything, like a kid with a wish book. thanks again, Dave
JIM'S PAIR OF 1851 COLTS

Don, I am sending you 2 pics of the 1851 Colt I built from one of your kits. I imbedded two 3 cent US coins (1851 of course) in the wood grip. Heads showing on one side, tails on the other. Kind of gave it a personal touch. The gun handles very well and I enjoy shooting it very much.You supply a wonderful kit. Regards Jim
NOTE
If you are a customer of the Possible Shop and have pictures of your Hunt, a Rifle or Pistol you have built, Clothing or Possible's made from our patterns, e-mail us with a picture and info and we will post it on the site.