SPARE CYLINDER FOR
UBERTI CAP & BALL PISTOLS
Description
Order No.
Price
Order Now
Spare Cylinder For
Uberti Walker
83-20005
$110.00
Out Of Stock
Spare Cylinder For
1st Model Uberti Dragoon
83-80005
$94.00
Spare Cylinder For
2nd & 3rd Model Uberti Dragoon
83-81005
$99.00
Spare Cylinder For
1849 Pocket & Wells Fargo
83-35005
$85.00
Out Of Stock
Spare Cylinder For
Uberti 1851 & 1861 Navy
83-00005
$85.00
Out Of Stock
Spare Cylinder For
Uberti 1860 Army
83-40005
$85.00
Out Of Stock
Spare Cylinder For
1858 Remington Army - .44 cal
83-100005
$99.95
Out Of Stock
Spare Cylinder For
1858 New Model Navy - .36 cal
83-136005
$94.00
Out Of Stock
SPARE CYLINDER FOR TRADITIONS / PIETTA
1851 Navy Cap & Ball Pistols
Description
Order No.
Price
Order Now
Spare Cylinder 1851 Navy
.36 Caliber
53-1631
$79.00
Spare Cylinder 1851 Navy
.44 Caliber
53-1630
$79.00
SPARE CYLINDER FOR TRADITIONS / PIETTA
1858 Army Cap & Ball Pistols
Description
Order No.
Price
Order Now
Spare Cylinder 1858 Army
.36 Caliber
53-1632
$79.00
Spare Cylinder 1858 Army
.44 Caliber
53-1633
$79.00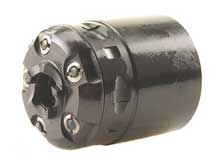 CONVERSION CYLINDERS
A Conversion Cylinders Converts Cap and Ball Percussion Revolvers to accept a Cartridge. Now, you can switch back and forth from black powder to centerfire by changing the cylinder. The cylinder and plate fit together without screws or threads, so reloading is simple: pull the cylinder pin, drop the cylinder, and lift off the plate with your fingers. Only certified, 4150 arsenal-grade steel is used in the production of these cylinders and top-plates, to offer superior quality and strength and ensure safety and durability. Use only cowboy ammunition that does not exceed 850 FPS; never use hot or jacketed ammunition. Cowboy ammunition is produced by most manufacturers.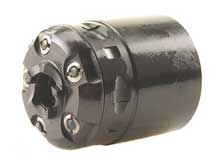 1860 COLT ARMY
CONVERSION CYLINDERS
Converts steel-frame 1860 Army revolvers by Uberti or Pietta from .44 caliber to 5-shot .45 LC cowboy ammunition. This conversion cylinder is Single Action Shooting Society (SASS)-approved for Cowboy Action Shooting with all five chambers loaded, due to the unique safety-notch design.
Description
Order No.
Price
Order Now
Uberti 1860 Army Cylinder
5 Shot - 45 LC
83-U1860
$200.00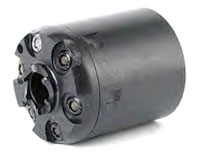 1858 REMINGTON
CONVERSION CYLINDERS
Exclusively from Taylor's & Co., these conversion cylinders are manufactured to fit Remington 1858 steel-frame revolvers by Uberti® or Pietta. This 6-shot cylinder converts 1858 - .44 caliber Cap & Ball to .45 LC cowboy ammunition only. Taylor's offers the only 6-shot 1858 Remington Conversion cylinder on the market.
Description
Order No.
Price
Order Now
1858 Uberti Cylinder
6 Shot -45LC
83-URM-102
$240.00
Out Of Stock
1858 Pietta Cylinder
6 Shot -45LC
83-PIERM-101
$240.00
Out Of Stock
The Possible Shop
Roswell, New Mexico 88201
575-625-6762