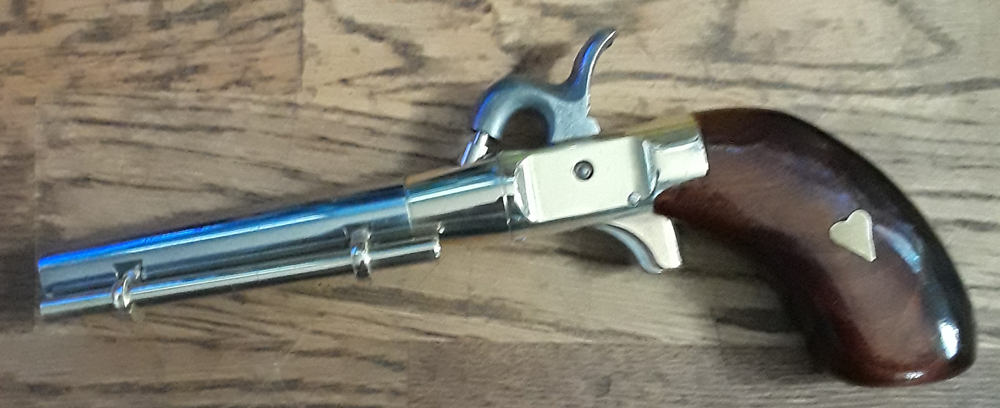 JEFFREYS' ACE PISTOL
It took me about three weeks to build this kit. I am a disabled veteran so I worked on it when I was able to. I decided to leave it in the White and really liked the way it turned out. I used a vise grip to hold the Hammer Spring Retainer in place while I installed the Hammer pin. I also used a tiny adjustable tweezer that I could lock shut while it held the trigger spring. This really helped when installing this spring. I also used a honing stone on the Hammer, Hammer Spring Retainer and the trigger so these pieces would work very smooth without any binding. I am very happy on the way it came out and look forward to shooting it. I am now working on the Pepper Box 36 cal gun. It seems to be more of a challenge to assemble but I know when I get it assembled it will be another fine piece for my collection.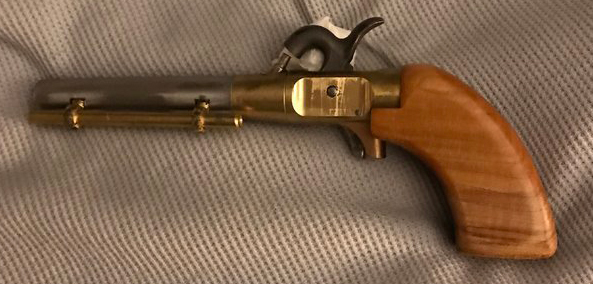 GARYS' ACE PISTOL
I really enjoyed this build. I especially liked the fact that I had the option of doing whatever I wanted to do with the grip as far as shaping it. I didn't blue the barrel yet. I kind of like the "in the white" look. But I may go back and change that later on.
Gary in South Carolina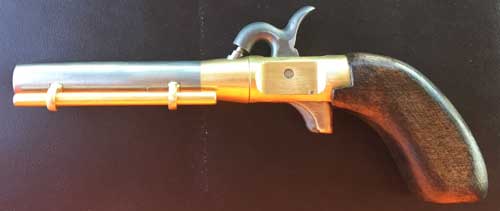 I just finished this New Orleans Ace pistol. These kits do require a bit of skill, but that's half the reason I bought one. There are easier kits out there, like the Traditions kits which are just "assemble and stain". But where's the fun in that? Besides, I feel that this project increased my wood-working and metal-finishing skills, and gave me an excuse to buy more tools- bonus! Anyway, here is the finished product. I modified it a bit, as I made the handle like it shows in pictures, but it wasn't very comfortable. So I ordered another handle and made it to fit my hand. The kit was a lot of fun to put together and I would definitely do it again. I'm not sure what I'm getting next. Duckfoot? Snake Eyes? Twister? Who knows, but I'm sure I'll have fun putting the next one together. I haven't shot it yet, but will be soon. Thanks Possible Shop!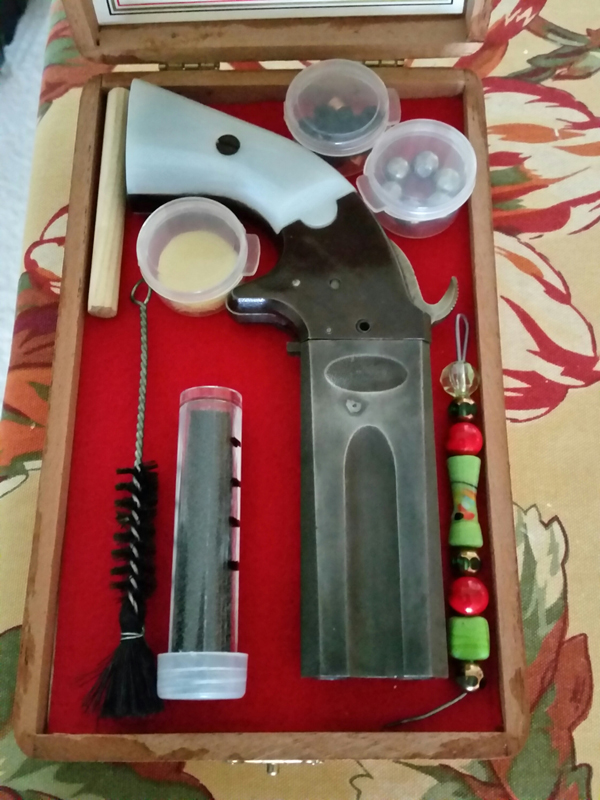 GENES' TWISTER
Very Nice
Hi Don, Just finished the Twisted Derringer kit it was fun to build but took time to deburr and polish parts to match to each other properly this kit is great for someone who has gun smithing skills I was very pleased with the quality of parts considering it's just an inexpensive kit, my advice is to take your time building and have fun! Shoots well using provided instructions. Thanks for the great customer service. Loyal customer,
Gene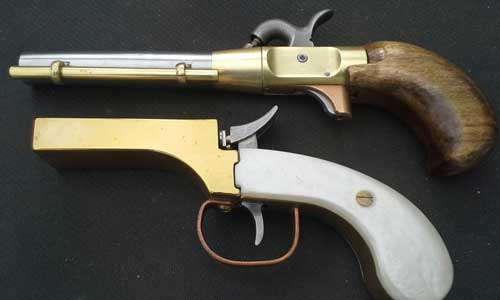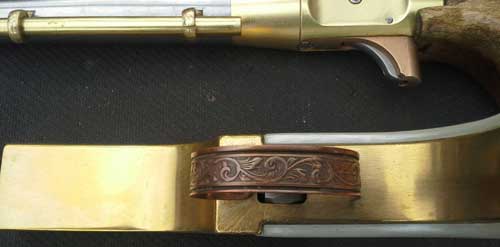 ALS' CLASSIC PISTOL
Don. yes it was fun spent a lot of time on the new orleans ace stock. did not get a trigger spring with the kit. Made one. I shot it with blanks 36 grains of black powder. and a  wad of paper packed in. I will go to the range with it. the half inch drop on the hammer is vary little. i could not get A cap to fire. and this is what i did.
To make the gun to go off. take a cap gun set of ring caps. take one off of the ring. and with a pin. very gingerly take the white paper out of the red cap and discard. then with the pin. paw in the dust of the red cap. to make the dust lose. then pore the dusty bottum of the red cap. into the number 11 cap. then hold the gun with the barrel pointed up. slip the number 11 cap onto the up side down nipple. lower the gun and shoot at Will.  you must do this ginerly or you may set off the kids red cap it will not hurt if it gos off. the red cap dust will go off easy and make number 11 cap go off.  It works for me  always wear safety glass Thank you Al.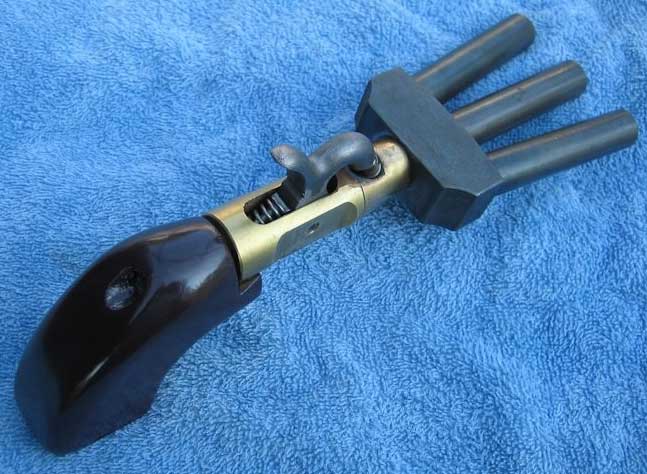 MARKS' DUCKFOOT
Don,
You told me you would like to see the finished "Duck Foot" pistol when I had the kit completed. Well sir, it is now completed. The distance between last fall (2014) and this spring (2015) seems elongated, but I had (believe it or not) more importanter thangs ta do...or so says "the boss" (and she is always right...as I am sure you are aware).
Meanwhile, back at the Reality Ranch, here is a photo of the completed pistol kit and I have plans to go out to shoot it this week, other than to simply test fire a primer cap here in my neighborhood.
MARKS COMMENTS ON BUILDING THE DUCKFOOT KIT
When the kit arrived I began to assemble the parts with care and consideration for each member of this unit, however, there are several things which I came across that needed to be rectified before I was actually able to fire the weapon for the first time.
The Grip was not a challenge as I have the tools to shape and fashion pieces of wood and form them to what I need or desire. It did take a little doing, but in about an hour I had the Grip formed the way I wanted. I did have to purchase a second Grip because the first one split when I attempted to screw it into the Receiver. That in itself was no problem and the second Grip
operation went much smoother. I had learned a lot about how the holes were drilled and what needed to be done.
Getting the Hammer Spring Retainer and the Hammer Spring to cooperate together was not too difficult. I simply used a pair of vise Grips to hold the Retainer in place while dropping the Hammer into position. The Hammer had to be filed as it was initially too wide. I filed both sides equally and it worked great.
The Nipple sat nicely in place and since I do not own a Nipple wrench I used a pair of small needle nose pliers and tightened it into position.
All three Barrels came attached to the Breech although the center Barrel was loose. I removed it and added a squirt of thread locking compound to it and all was well. I screwed the Receiver into place and then set the Trigger, Trigger Spring and Trigger Guard into the Receiver. All was well until I attempted to fire a cap. This is where several problems developed and remained to plague me for quite sometime. The caps did not fire consistently. I spoke to several people who have black powder weapons and they each gave me ideas about how to correct the problem. After I had tried all of the suggestions, I finally had to order another Nipple (actually I ordered two, just in case I needed an extra one).
During the process of correcting the Nipple problem I was told I might need to make the"striking" distance from the Hammer longer. I bored the Hammer a little deeper and I shortened the Nipple. The result was I had to order a second Hammer, as nothing at that moment seemed to make any difference.
The Trigger Guard Screw was extremely finicky. I did not realize what was taking place with it until recently. I tried to do a variety of things such as bore the Trigger in order for theTrigger Spring to better seat within the Trigger Guard. I also bored the Trigger Guard to assist in seating the Trigger Spring. The result was that I ordered another Trigger, another Trigger Guard and several Trigger Springs. The latest Trigger Guard came with a pre-drilled spot for the Trigger Spring and that gave me hope for the rest of the project. I figured someone else had the same problems I was having. The Trigger probably should be done the same way, but that is just me thinking out loud. When finally getting the Trigger assembly ready to go I added a drop of cyanoacrylate adhesive ("Crazy Glue") to hold the Trigger spring in position so I could get all of the parts together simultaneously. Once this was accomplished I tightened the Trigger Guard Screw only to discover that when fully tightened the Trigger failed to function, but if I backed it off a little, it worked fine. I removed the screw, added a drop of thread locking compound before re-inserting the screw, tightened it only to the desired location and everything seemed to work well.
I removed the old Nipple and replaced it with a new one and adjusted it with pliers until I got the caps to respond with some regularity. When I had accomplished that I realized the Nipple was further out of the Receiver than expected. I removed the Nipple, located a small lock washer from my treasure trove of small lock washers, placed it on the Nipple threads and re-inserted the Nipple. I now get the caps to fire consistently on the second "snap" of the Hammer. I figure that is the best I can hope for and I can live with that. Off to the firing range (farm) I went. I had a friend go with me because he knows all there
is to know about black powder weapons (if you don't believe me, you can just ask him yourself). We were able to get the center Barrel to fire a live round, but the two outside Barrels did not function. Not being able to do much in the field, I waited until I got home to find out what was keeping the to outside Barrels from firing. I took the breech off of the Receiver and removed the two outside Barrels. I discovered that the Receiver threads screwed down inside the breech too far and that the Barrel ports were being blocked. Looking to understand why, I soon learned that the Spacer Part #18 was never in my kit. I also have no idea what Spacer Part #17 looks like or what it (or they) is (are) designed to do since it (them) too was (were) not included in my kit. I contacted a local plumbing and appliance repair shop and acquired several brass washers, drilled them out enough to go over the threaded end of the Receiver and now all threeBarrels get some output from the cap firing. I have yet to return to a location where I am able to actually test fire all three Barrels, however, I will let you know what happens when it happens. I feel much better about the overall operation of the pistol now that I have reached this point.
You had said and had written previously that you wished to know the outcome of my project. This is pretty much it. Maybe this will assist the next guy (or gal) who wishes to buy a"Duck Foot Pistol" kit.
Talk to you later,
Mark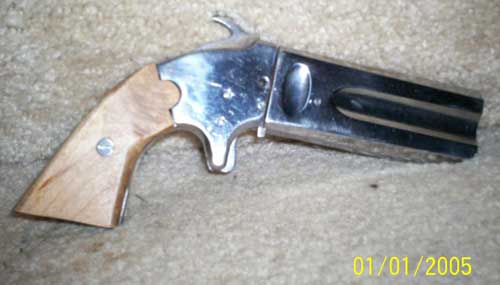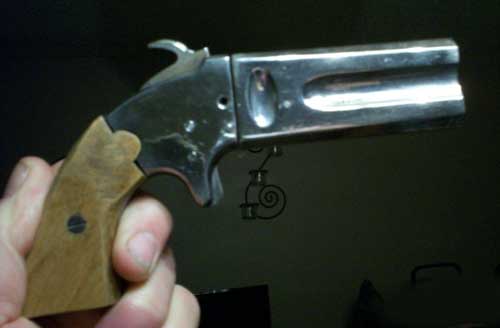 LEONS TWISTER
Lots of sanding and polishing, but now I have a stainless looking easy clean finish.
The kit is pretty rough and took a lot of filing and polishing to smooth the steel. I didn't like the plastic grips, so I made a pair out of maple. Some light engraving ( with a Dremel and diamond bits) to add some more interest. The trigger pull is very heavy and I sure wouldn't want to try and rotate to the second shot in an emergency. It does look cool though. I popped a cap, just to check if it fired ok, but have not shot any powder with it. Fun project. Brian


ROLANDS' PISTOLS
Roland is hopefully going to make boxes for each of these to go into and each grandchild has picked his/her choice for in the future.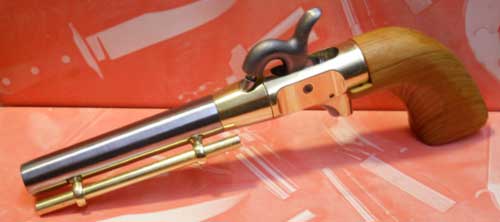 JOHN'S CLASSIC PISTOLS
I have attached pictures of the New Orleans Ace and the Snake Eyes kits I finished. The wood on the Ace is from a 200 year old Louisiana cypress.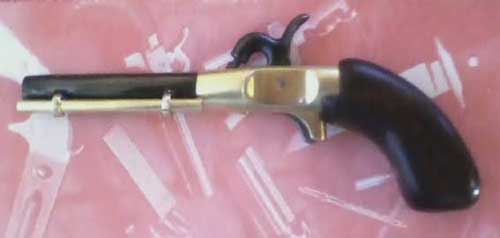 BERNARD'S ACE
Overall it was a fun kit to build. Thanks Again Bernard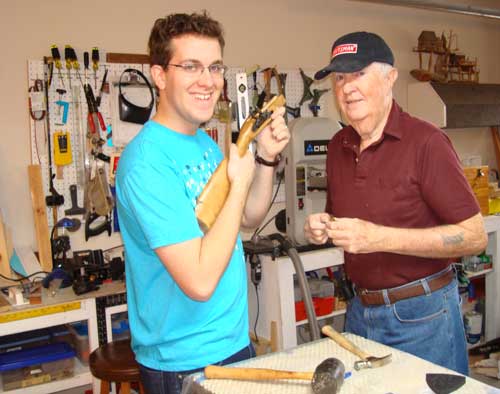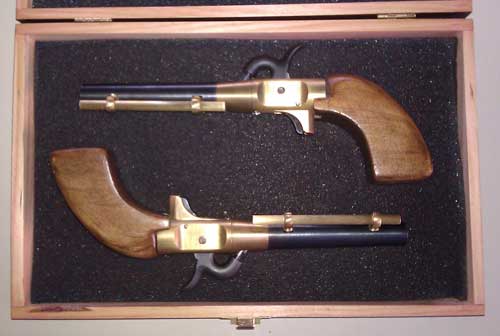 "GRANDSONS OF SONS"
Dear Possible Shop,
This is my second year in purchasing from you. I am so pleased with your quick turn around and effective service.
Every year I use you to find and build a project with my Grandfather. We have aptly named ourselves, 'Grandsons of Sons' after the popular Discovery Channel show.
Attached are additional pictures of our first build, the Traditions Kentucky Longrifle Flinlock kit and new pictures from our second build, the Classic Arms New Orleans Ace kit that we turned into 'Grandsons of Guns' dueling pistols. We have enjoyed these projects immensely and we hope you enjoy these pictures and add them to your web site.
Thanks again, Patrick