DEANS' KENTUCKY RIFLE
Greetings: I purchased the Kentucky flintlock kit. It came packaged well and complete. Please understand this is not a complaint of any sort. I feel the kit was worth the price. The end result was pleasing. First inspection: I was surprised that the brass pieces came finished nicely. The stock came well built and required little inletting, but did require contouring, mostly around the butt plate. I did remove some wood behind the lock where the sear appeared to lightly touch the stock. I also replaced the brass plate that went between the rear and front stock pieces with ebony, which allowed me to use just the two steel pins and epoxy the stock together. I also slimmed down the fore arm area of the stock along the barrel channel. (Mostly in width) The three ramrod thimbles were replaced with ones made from maple and simply glues in place. The rear lock mounting screw needed shortening because the stock was a little too narrow and allowed the screw to protrude and touch the cock, seizing up the action. OK, (Not griping....) I find the whole lock to be hap hazard and simply sub standard. The lock plate is OK. The hammer (cock) is OK too. As is the pan and frizzen. The sear screw hole is too large and allows it to wobble....The trigger bar is a full 1/8" too short in thickness and is way too far from the sear trip pin (arm) giving a large initial take up before contact with sear. AND lastly...when a flint is mounted normally in the hammer clamp, the lock fails to complete a full stroke. It hangs on the frizzen lower edge and also fails to open the frizzen completely. The rear and front stock pieces appear to be of different wood as they take stain differently and appear not matched.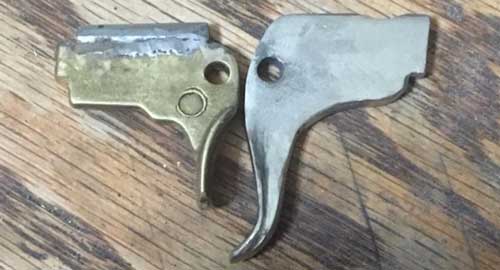 -The geometry between the hammer pivot and the frizzen is too small (close). I can not correct that, so by mounting the flint in the hammer upside down, I can get normal operation.
- I fabricated a new trigger, adding extra metal along the top edge of the arm, then file fitted it to the sear allowing a little take up before contact. It operates normally and predictably now.
- I had to leave the sear screw hole too large as I didn't want to take the time to make a new sear and properly fit it.
- I find the "floppy" trigger to be distracting, so I custom wound a compression spring that would simply drop into the existing space under the trigger arm and behind the sear arm. The trigger acts normally and predictably now. - Those are short term repairs until I can find a better built lock that will fit the rifle. It seems to be a 7/8 size copy. Dean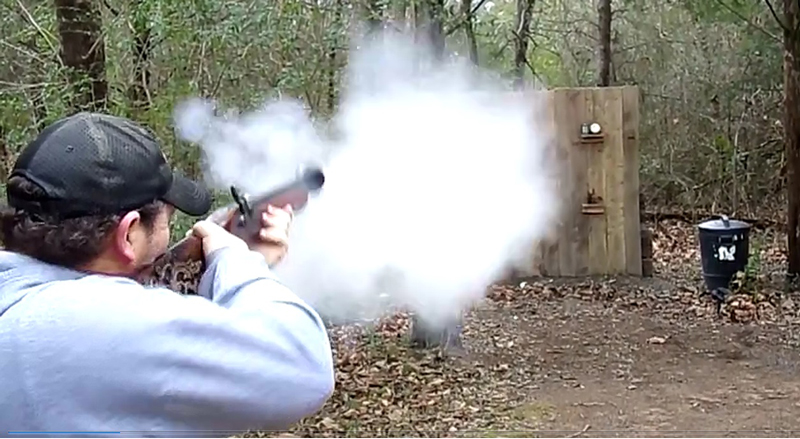 I ordered and received the Traditions Blunderbuss, in  just a little over a week. Thank you for the Fast Service! Simple kit to assemble and even more fun to shoot! Everywhere I looked, they were either Sold out or 25-50% higher than what you had them listed for on your site. You have earned a lifetime customer!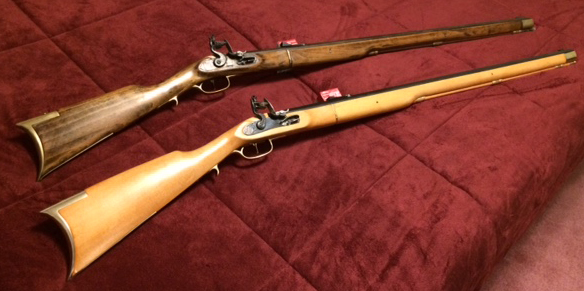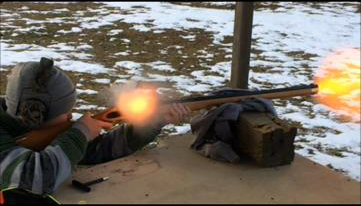 Just a little story behind why I purchased a kit. The top rifle is a Jukar that my dad built many years ago. The gun never fired reliably due to a soft frizzen. In 2008 my dad passed unexpectedly and I inherited the gun, I replaced the frizzen and have been in love with the gun ever since. Now we arrive to this year and my son turns 12 so I figured what better gift than a kit gun that he and I can build together, the bottom gun in the photo. We spent quite a few evenings working to fit and finish everything just right and we are both very happy with the end result. I have recommended your shop to a lot of friends already as you had fast shipping and have provided an excellent product!!! Thank you!! You are the only place I could find a .45 cal Kentucky Rifle!!!

BOB'S DEERHUNTER RIFLE
Don, I really had fun building this kit rifle. It was purchased to fill some time during the winter months. A great starter kit with minimal fit of parts. I only used a few small files and an exacto knife with different grits of sandpaper. The only thing I was missing was ramrod retainer spring and the trigger assembly spring kept popping out. With a quick call to Traditions the service person took care of the problems and sent new springs. Excellent service. I finished the barrel in a semi rust blue using Birchwood Casey cold blue and the stock received boiled linseed oil finish. Turned out just like I wanted. I haven't had the opportunity to fire it up yet but will do so soon. I think it will make a fine little rifle for squirrels, rabbits, and a grouse now and then along with varmints. I also will target shoot which I really enjoy. I had been looking for one of these because of the shorter length in dense cover and it really fits the bill. Thanks for the great service and products. Wish I could supply you with better pics but my camera expertise is limited.

I shot a total of 5 shots on my first time out to just see what was capable and if I needed to adjust the sights. No range mind you, just walked into the woods, set a target at 25 yards. Took a light standing rest against a tree. The load was a Hornady .310 lead ball and a .012 cotton patch over 20 grains of Pyrodex P. The first 3 shots were totally covered by a quarter.
The next two shots were the same except for a 30 grain charge of the same powder. They patterned (?) a little lower but could be the fault of my aging eyes! This was by iron sights with no adjustments.
Anyway, I am totally pleased and excited to get out and harvest some small game with this fine rifle. I will target shoot some more in the spring. I am attaching a photo of this fine rifle. Thank you for your excellent products and fine service.
Regards, Bob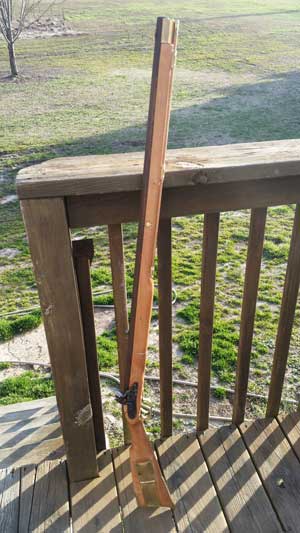 TQ's KENTUCKY FLINTLOCK
Here's my rifle that I bough from you all. I enjoyed it very much. I also added my own special touches; an early style patch box and enlayed a heart. On each side if the stock,soon I will order a pistol kit and build it to match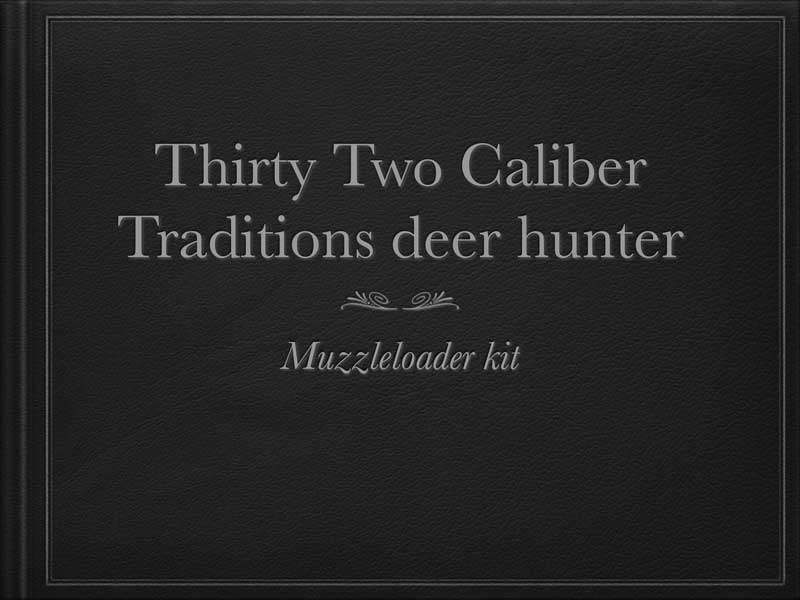 ANTHONY'S .32 CAL DEERHUNTER RIFLE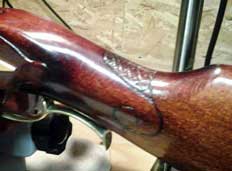 PAUL'S SHENANDOAH RIFLE
Here is a pictures of the Shenandoah kit I got from you.  The parts went together pretty well, with only a little "need" to remove wood and polish the hardware.  That said, I "wanted" to take some wood off around the lock to carve in a beaver tail, which I was able to do given the extra wood.  I replaced the screws on the patch box with brass to better match to rest of the hardware.  I recommend this kit to the beginner who wants a little different rifle.  Thanks again for the great service.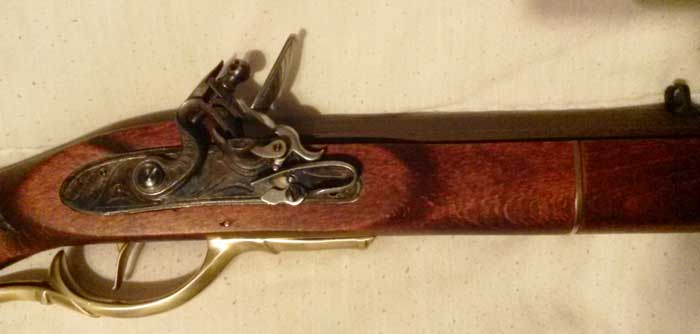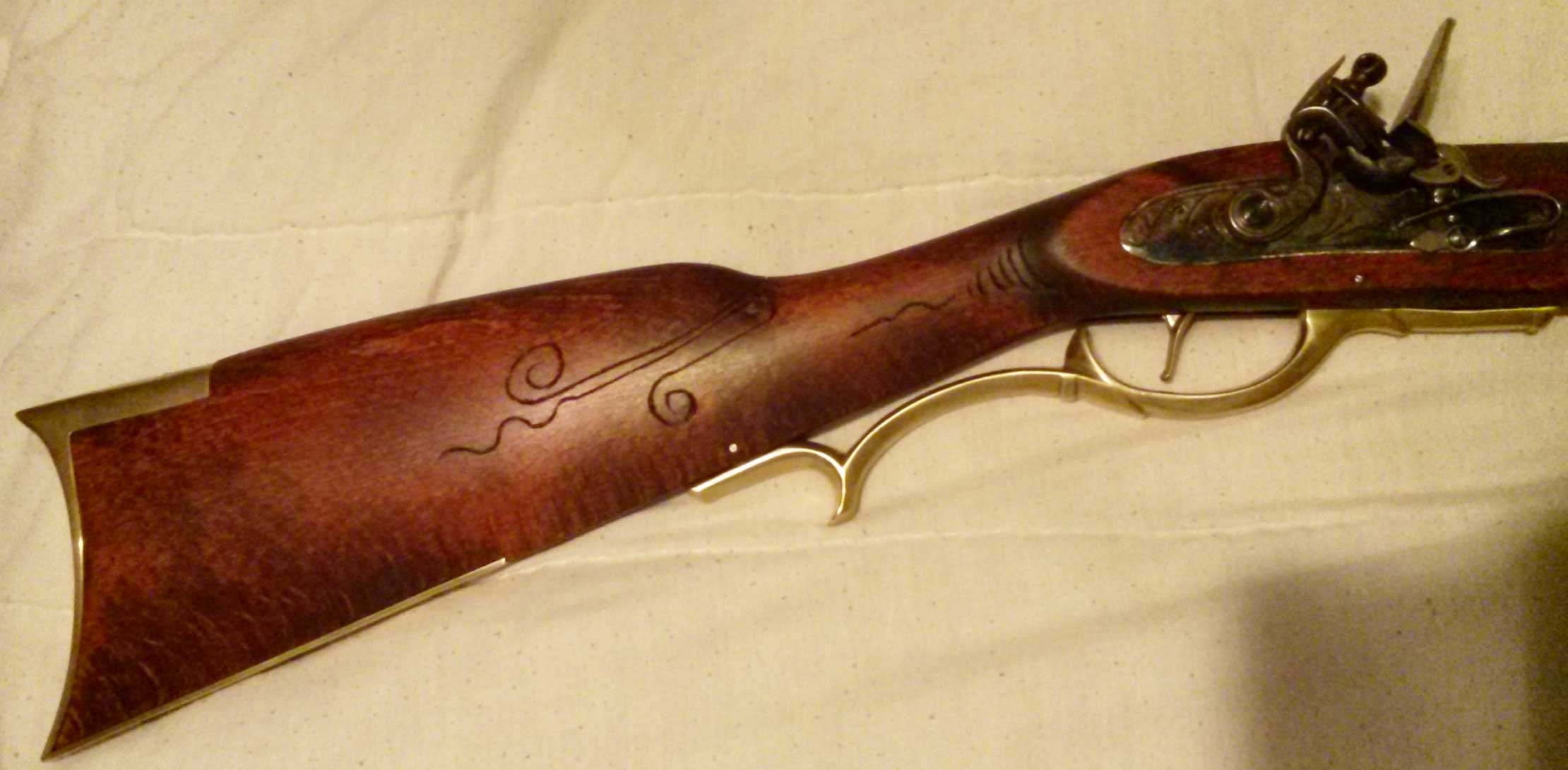 AARON'S KENTUCKY RIFLE
Hello Don,
Just some of my experience on the build with my .45 kit. I tried to force the trigger guard and it snapped which the manual warns about. That was the only problem I ran into. I had to use an aftermarket trigger guard on the build. I had a blast though! It was really fun and would recommend it to anyone. My brother already wants to build one of the pistols. I've done some target shooting with it. It really seems to like. .490 ball with pillow ticking patch and 55 grains of 3f. I plan on using it for next years muzzleloading season.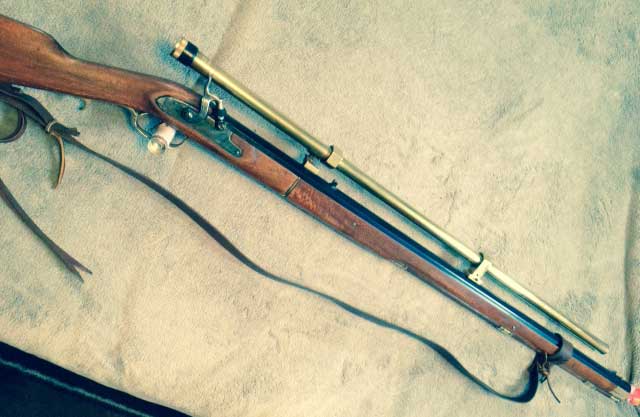 I built this rifle back in the mid '70s. my most accurate round ball load is 60 grs with patched ball. 2" group at 50 yards my hunting load is 80grs pyrodex and 285 gr buffalo bullet. dead on to 70 yards.

DAN'S
Deerhunter Rifle .32 cal
I assembled my muzzleloader and took it to the range today.  It shoots great at 25 yards.  Haven't tried further distances yet

DICK'S DEERHUNTER RIFLE
Here is the finished "Deerhunter" model in 50 caliber. I decided this was going to be the one for muzzle loading season and I wanted to keep it as dark as I could. The barrel is painted black and I used a spray paint that did not need primer, XO-Rust gloss black. Really hard finish.

DAN'S KENTUCKY RIFLE
Dan from Wisconsin built this fine looking Traditions Kentucky Rifle

Dan, from WI. recently built this Kentucky Rifle from one of our Traditions Kits.
JASON'S KENTUCKY RIFLE
Don. I am sending you a picture of my Kentucky Rifle kit I ordered from you. It took some time but it turned out nice and i will gladly order from you again Jason.

MIKE'S SMOKEPOLES
Hi Don,
Thank you for the quick shipment of my .45 cal Deer Hunter kit rifle by Traditions! I finished the kit in two days easily. These are excellent kits. Very little fitting needed. The only real trouble I had was finding why the lock would not go to full cock. I kept shaving wood, until it became obvious that the problem was not a wood fitting issue at all. All I needed to do was shorten the screw behind the hammer by a couple threads!This is my second .45 cal smokepole, I was given a beat up "Kentucky" botch job, (from a no-name kit), and I managed to save it by shortening the barrel and stock and adding a brass band to the stock to hold the barrel in place. I had to build a custom front sight for it, after chopping back the barrel, with a 1 in 66 twist, it shoots round ball fairly nice to about 75 meters.
I plan on shooting 190 grain Buffalo .457" pistol bullets from the Traditions DeerHunter. I was happy to find an inexpensive sidelock in .45 cal with the 1 in 48" twist. Everyone seems to build a .50 cal, and no one makes the .45 cal any more .I don't understand that, almost like no one making a 30-30. LOL. Thanks again, I may just have to order another! This was way too much fun.


GLENN - KENTUCKY FLINTLOCK RIFLE
Here are a couple pictures of the flint lock kit i got from you. As soon as it stops raining I'm going to see how good it shoots .I will be sending a couple emails i cant figure out how to attach a couple pictures to one email. But I can build a gun ... thanks Glenn.

DICK LA BROSSE - ST LOUIS HAWKEN RIFLE
The only modification I made was to the butt plate.  I didn't want to do anything to the wood to get a fit.  So I drilled and counter sunk an additional hole in the center.  I put in one screw and slowly drew it up tight to the wood.  After sitting over night, the brass shaped itself to the stock.  Then all I had to do was a lot of filing.  I also used antiqued brass screws instead of the black ones in the kit. As far as I am concerned, the kit is an excellent product.