The Sawbuck Pack Saddle played a large role in opening the American west. It was the pack saddle of the early explorer, fur trapper, and the prospector. The Sawbuck Pack Saddle has packed just about everything a horse could carry. It has the traditional look many prefer and is still popular with outfitters, weekend trail riders and serious outdoor campers.
CLASSIC SAWBUCK PACK SADDLE
The Classic Sawbuck Pack Saddle is built to withstand years of hard packing, it is the best Pack Saddle available on the market today.

The Classic begins with the Tehema Sawbuck Pack Saddle Style Tree. The kiln-dried Pine Bars are hand Shaped, sanded and sealed.  The crossbucks are made of tough solid oak. The Harness is constructed from Hermann Oak Harness Leather. The Breeching and Breast Collar are rolled to prevent chaffing your pack animal. The hardware is stainless steel.

The Sawbuck is outfitted with traditional double rigging, roller buckles make for easy adjustment of the quarter straps, while the remaining straps are easily adjusted with Conway buckles. It includes two latigos on each side of the saddle.
Fits most 900-1300 pack horses and mules nicely. By: Outfitters Supply
| | | | |
| --- | --- | --- | --- |
| Description | Order No. | Price | Order Now |
| Classic Sawbuck Pack Saddle | 91-WPS-200 | $629.00 | |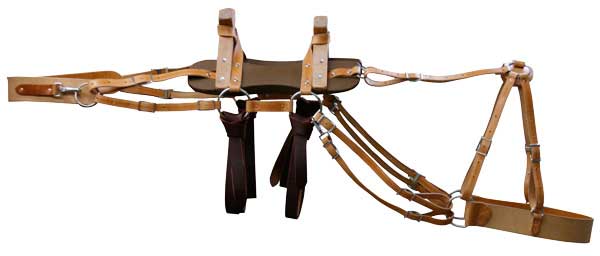 ECONOMY SAWBUCK PACK SADDLE
The economy pack saddles can still be counted on to last a lifetime; we've just eliminated some of the frills to make this saddle more affordable for someone that doesn't necessarily need the top of the line model.
TREE: Made exclusively for Outfitters Supply, these trees are constructed from the finest materials available with exacting attention to details. The contoured bars are kiln dried pine which are hand shaped and fine sanded. The wood is sealed with high quality exterior deck stain for protection and longevity. The crossbucks are made of solid oak and treated with linseed oil. The zinc plated hardware is counter sunk into the bars. The universal Tehema-style tree fits most average horses and mules.
RIGGING:  We handpick and cut the leather for our rigging straps from premium heavy harness leather. The saddle has adjustable double rigging; buckles on the tree allow you to place the rigging in the best spot for your animal. Rigging straps are 1¼", all other straps are a full 1" wide. We provide roller buckles for easy adjustment on the quarter straps and Conway buckles on all other straps for plenty of adjustment.
BREECHING & BREASTCOLLAR:  The leather breeching and breastcollar have beveled edges to reduce chafing. Our breeching, breastcollar and all straps are riveted with heavy copper rivets for extra durability.
EXTRAS: The pack saddles are sold ready to pack with four premium latigos and a 100% Mohair/wool double pack cinch. Specify, in the comment box,  a cinch length, even sizes 22/24" - 34/36" (average pack mules and horses generally take a 26/28" cinch).  
| | | | |
| --- | --- | --- | --- |
| Description | Order No. | Price | Order Now |
| Economy Sawbuck Pack Saddle | 91-WPS-350 | $529.00 | |
SAWBUCK PACK SADDLE TREE
(TEHEMA STYLE)
The Sawbuck trees are constructed from the finest materials available with exacting attention to details. The contoured bars are kiln dried pine which are hand shaped and fine sanded. The wood is sealed with high quality exterior deck stain for protection and longevity. The crossbucks are made of solid oak and treated with linseed oil. The zinc plated hardware is counter sunk into the bars. The universal Tehema-style tree fits most average horses and mules.
By: Outfitters Supply
Description
Order No.
Price
Order Now
Sawbuck Pack Saddle Tree
Thema Style
91-WPS-210
$149.95
The Possible Shop
Roswell, New Mexico 88201
575-625-6762