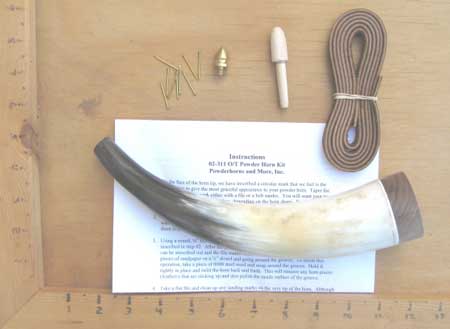 POWDER HORN KITS
This Original Style Horn Kit comes withe the pour hole drilled and a walnut baseplug installed. The horn is left natural in shape. The Walnut base plug is finished off flush with the horn so that you can finish it however you like, square, rounded over or domed.. The Horn Kit includes: a leather strap, Rosewood fiddle peg stopper, brass finial, solid brass nails and complete instructions. This is a quality product produced in the USA.
The large Powder Horn Kit will measure from 10 1/2 to 14" on the bottom curve. The Medium Powder Horn Kit will be 8 - 10 1/2" along the bottom curve of the horn
Description
Order No.
Price
Order Now
Large Powder Horn Kit
10 1/2 to 14" on the bottom curve
68-02426

$33.95

Medium Powder Horn Kit
8 - 10 1/2" along the bottom curve
68-02425
$29.95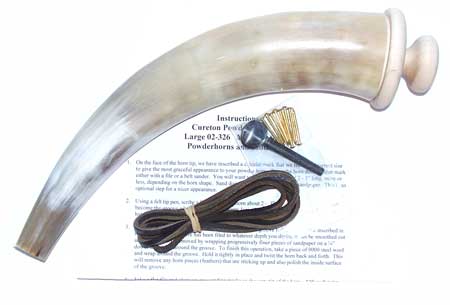 CURETON POWDER HORN KIT
The kit includes a polished cow horn (Large Kit Horn is from 10" -14") and the (Medium Horn Kit from 8" to 10 1/2") long. The horn tip already cut and drilled, the base has been cut square and rounded, the baseplug has been turned to an approximate fit and shaped. Also included is a carry strap, an ebony Violin Peg for a stopper, nine solid brass nails and complete instructions.
Description
Order No.
Price
Order Now
Large Cureton Horn Kit
10" to 14" on the bottom curve
68-02326
$33.95
Medium Cureton Horn Kit
8 - 10 1/2" along the bottom curve
68-02325
$29.95
POWDER HORN SPOUT & PLUG
This powder horn spout & plug are great when you build your own Powder Horn. They are nicely turned and are installed in the pouring end of the powder horn. The spout has a generous pouring hole 3/8" in diameter for hurried reloading such as timed shooting events, hunting, etc. The plug has an "O" ring that creates a friction fit in the spout holding it securely in place with a waterproof seal. A lanyard can be tied to the groove provided on the plug to prevent its loss. Both parts are made of brass. 1/2" end for a press fit into your horn.
| | | | |
| --- | --- | --- | --- |
| Description | Order No. | Price | Order Now |
| Powder Horn Spout & Plug | 12-07-06 | $8.95 | |
POWDER HORN BASE PLUG
These brass powder horn base plugs are designed to be installed in the base (large end) of a powder horn . The decorative plug provides a removable plug for easy filling of the horn and a place to tie one end of the horn lanyard. The plug comes with a brass bushing that is permanently installed in the horn base. These plugs are available in two sized. The large one is 5/8" in diameter with a 1/2" - 20 thread. The Small one is 7/16" diameter with a 3/8" - 24 thread.
Description
Order No.
Price
Order Now
Powder Horn Base Plug
Large
12-07-07
$9.95
Powder Horn Base Plug
Small
12-07-08
$5.95