PREMIUM LUBE
Premium Lube from Eastern Main lives up to it's reputation of being the Best Muzzleloading Lube on the market.
The Premium Lube is an excellent overall protection against fouling and corrosion. It is Biodegradable being made from non petroleum ingredients that are non toxic and environmentally safe.
Description
Order No.
Price
Order Now
Premium Lube
4 oz Jar
33-5555
$5.75
TLR claims this in one of the best muzzleloading patch lubes on the market. It has been their go to patch lube for years so they decided to release it to the shooting public. Comes in a 1.5 oz. tin container.
| | | | |
| --- | --- | --- | --- |
| Description | Order No. | Price | Order Now |
| TLR Patch Lube | 28-150 | $4.50 | |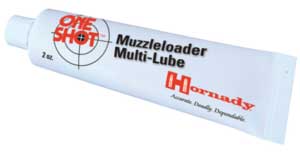 ONE SHOT MUZZLELOADER MULTI-LUBE
Designed as a multi-function anti-seize lubricant to keep breech plugs from getting locked in place by fouling. It can also be used as a patch lube when shooting traditional bullets. It is wax based just like the best cast bullet lubes and virtually eliminates lead fouling. Being a wax based lube it is completely water and humidity proof and will protect your muzzleloader, knife and any other metal gear even in the most extreme conditions.
Description
Order No.
Price
Order Now
One Shot
Muzzleloader Multi-Lube
80-6691
$8.50
Out Of Stock

PREMIUM LUBE BULLET STICK
By: Eastern Main
All Temperature Lube for Black Powder Cartridge & Cowboy Action Shooting. Great Lube for you Cap & Ball Pistol. Use with black powder or smokeless. Formulated with Beeswax. 4 Sticks per pack
Description
Order No.
Price
Order Now
Premium Lube Bullet Stick
4 Per Pack

33-8013
$11.95
Formulated for long range black powder shooting. It keeps fouling soft and flows through lube sizers. It can be applied by hand to muzzleloading bullets. It comes in stick form and will fit the 4500 sizer, and similar sizing/lubricator tools including RCBS. The dimensions of the lube are approximately 4 inches long by 1 inch in diameter
| | | | |
| --- | --- | --- | --- |
| Description | Order No. | Price | Order Now |
| Black Powder Gold Lube | 66-7266 | $6.25 | |
WONDER LUBE 1000 PLUS
The number one choice when it comes to caring for any muzzleloader. All natural ingredients "season" the barrel interior while significantly reducing fouling and corrosion. Comes in a 5 oz. tube.
Description
Order No.
Price
Order Now
Wonder Lube 1000 Plus
5 oz. Tube
53-1294
$6.95
BORE BUTTER
Natural Lube 1000+
A biodegradable, all natural lubricant which contains no petroleum-based oil or additives. Reacts differently (chemically) to the combustion of black powder, producing far less "tar like" fouling. The 5 oz. tube is ideally suited for easy application on patches. Also, can be used to field lube bullets. Excellent rust preventative on external surfaces of any firearm.
Description
Order No.
Price
Order Now
Bore Butter
5 oz. Tube
22-7309
$8.95