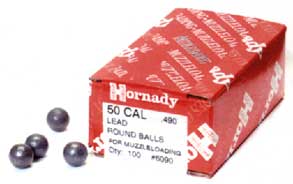 HORNADY ROUND BALLS
THE CHOICE OF THE WORLD'S BEST SHOOTERS
Hornady round balls have really paid off for the U.S. Muzzleloading Team. To date, they have won 153 medals in just four International competitions. An awe-inspiring performance by any measure.
And don't forget Chris White. He used a Hornady round ball to take a world-record (non-typical) 1100 lb. elk in September 1993. The elk, taken in one shot, scored 404 1/8 Boone and Crockett points. Chris knew what more and more hunters discover every day: Hornady round balls deliver the consistency and accuracy you demand in the field.
Take it from the world's best shooters. They know Hornady round balls are better than any other kind of round ball. They know they can depend upon Hornady round balls to be completely uniform in size, weight and roundness. Cold swaging from pure lead eliminates air pockets and voids common to cast balls. And the smoother, rounder surface of a Hornady round ball assures better rotation and consistency. It's our strict production procedures which give Hornady round balls the unsurpassed uniformity demanded by the world's best shooters.
100 Balls Per Box
Description
Order No.
Price
Order Now
.32 cal. Rifle Balls
.310" Dia. - 45 gr.
80-310
$10.95
.32 cal. Rifle
.315" Dia. - 47 gr.
80-315
$10.95
36 cal. Rifle Balls
.350" Dia. - 65 gr
80-350
$10.95
.36 cal. Revolver Balls
.375" Dia. - 79 gr.
80-375
$11.95
.40 cal. Rifle Balls
.395" Dia. - 93 gr.
80-395
$11.95
.44 cal. Rifle Balls
.433" Dia. - 122 gr.
80-433
$13.50
.45 cal. Rifle Balls
.440" Dia. - 128 gr.
80-440
$12.95
.45 cal. Rifle
.445" Dia. - 133 gr.
80-445
$14.50
.44 cal. Revolver Balls
.451" Dia. - 138 gr.
80-451
$14.50
.44 cal. Revolver Balls
.454" Dia. - 141 gr.
80-454
$14.50
.44 cal. Ruger Revolver Balls
.457" Dia. - 144 gr.
80-457
$17.00
.50 cal. Rifle Balls
.490" Dia. - 177 gr.
80-490
$15.95
.50 cal. Rifle
.495" Dia. - 183 gr.
80-495
$15.95
.54 cal Rifle Balls
.530" Dia. - 224 gr.
80-530
$17.50
.54 cal. Rifle
.535" Dia. - 231 gr.
80-535
$17.50
.58 cal. Rifle/Musket Balls
(50 Per Box) - .570" Dia. - 279 gr.
80-570
$11.25
Out Of Stock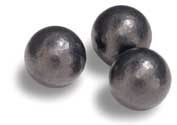 SPEER® SWEDGED LEAD BALLS
Speer® offers a variety of lead balls for the traditional round ball shooting enthusiast. Great care is taken to ensure smoothness and shape uniformity for better accuracy over the long haul. Lead balls are packaged in our unique black plastic boxes for added protection and convenience. 100 Per Box
Description
Order No.
Price
Order Now
Speer Round Ball
.350 dia
86-350
$10.95
Speer Round Ball
.570 dia - 50 Per Box
86-570
$11.95
PA CONICAL .50 CAL 240 GR.
The ideal choice for any hunter who wants to use a longer-barreled, slower twist firearm. Hornady's PA Conical bullets deliver greater accuracy and more knock-down power. Our PA bullets are pre-lubed with special knurled grooves on the bearing surface to hold the lubricant on the bullet — no need for a patch or sabot. Packaged 50 per box.
Description
Order No.
Price
Order Now
PA Conical
.50 cal. 240 Gr.
80-6617

$15.95


Out Of Stock
GREAT PLAINS BULLETS
Great Plains bullets are made especially for hunting. They feature an innovative, three diameter bearing surface that makes them easy to load, yet assures a good tight fit in the bore. The base diameter which is smaller than the bore of the rifle makes the bullet easy to start; the middle diameter is slightly larger and engages the rifling; the top diameter fits tightly and imbeds in the grooves of the rifling. Upon firing, the thin skirt of the hollow base expands to engage the rifling and seal the bore. This engineered design makes the Great Plains bullet more accurate in more types of muzzleloaders, and makes it one of the deadliest bullets we've ever made.
PRELUBED WITH ALL NATURAL LUBE Specially knurled grooves are pre-lubed with the optimum amount of Hornady's Great Plains all natural lube, which makes loading easier and firing cleaner. 20 box.
| | | | |
| --- | --- | --- | --- |
| Description | Order No. | Price | Order Now |
| .50 Cal. 385 grain | 80-6620 | $12.95 | Out Of Stock |