Tips from my Kentucky pistol kit .45 cal
1. look away you purist, reenactors and historians.
2. The wood is coated with polyurethane
3. The barrel is blued with Brownells oxpho-blue
4. This Kentucky fires .452 dia. 230 grain lead conicals tumble lubed in Alox.
5. powered by 30 grains Pyrodex Tells
I am a target shooter and had fun building this pistol. It is a quality pistol
that is fun to shoot.
The sights were very loose, no resistance in the dove tales. I had to put shims under them to for force them in.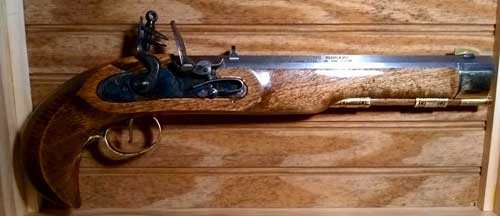 It's been over twenty years since I hunted in Tennessee with the gentlemen of the Second Company of the North Carolina Militia. They were my mentors in the world of black powder and everything 18th century - the Lawrence brothers: Captain Tom, Jim and Sergeant Mike; the master gunsmith Ron Ehlert; Tom Ford and Jerry Jenkins. For me, it's hard to believe that twenty-plus years have slipped away since we sat by a fire in the forest on the escarpment of the Cumberland Plateau with squirrels roasting on sticks, singing songs and drinking from a cask of black rum.
I hunted with a .54 caliber Yeager back then. But when I decided to try building a rifle of my own I selected, for simplicity's sake, a CVA Hawken kit with percussion ignition. I learned some things from that kit – things that still applied today when I recently ordered a Traditions Kentucky flintlock pistol kit in .45 caliber from The Possible Shop. It's a great-looking kit with the brass already highly polished, the stock really close to where it needs to be and I had lots of fun putting it together.
The challenge with gun kits is always getting the lock, stock, barrel and trigger to all play together nicely and my first mistake was over-cutting the insetting for the lock. I did this before checking the alignment of the side plate screws so I had a gap about the width of a toothpick outside the lock. Hmmm. Toothpick, you say? Ok, fill the gap with a toothpick.
| | |
| --- | --- |
And finish the fill with a mix of wood glue and sawdust.After sanding, staining and finishing, it wasn't a bad hack – beat ordering another stock.
My next challenge was the fit of the brass nose cap to the stock. I taped off the brass and went to work with rasp and sandpapers – getting the fit as close as my attention span would allow. Not a big deal. Something I hadn't encountered before was how tight the lower thimble was. Rather than risk splitting the stock by forcing, or trying to enlarge the ramrod channel, I found it much easier to sand down the outer diameter of the thimble until it fit firmly without hurting anybody.
| | |
| --- | --- |
I remember trigger guards being problematic. Instead of removing brass from the guard to get a fit, I used a Dremel to lengthen the channel in the stock for the rear part of the trigger guard. Although my execution was not masterful, this seemed to get the job done. At this point the dry fit is starting to make sense.

So, I took it all apart, sanded from 120 to 220 to 340 to 400 and finally 600, stained the wood with some Minwax Dark Walnut. Followed by four coats of Minwax Wipe-On clear gloss polyurethane getting us to here.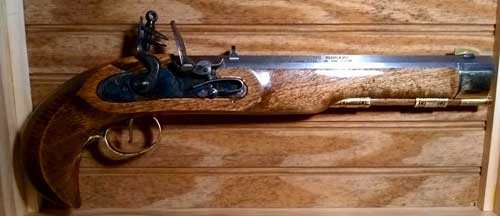 After a bit of research trying to decide whether browning or blue was more appropriate for the piece, it seems that, historically, the barrel left in white was most common. So be it. One less step.
What's left? Set the sights. Careful measurements and a little dab of Uncle Mike's Guntite removable thread locker from Loctite, got me in the ballpark. I'll fine tune when we test-fire. Ah, yes – we DO need those flints. I ordered ½" English flints. They sit in this lock nicely with a scrap of leather. Nothing left but to make it go bang! Twenty-two grains of FFFg Pyrodex, a spit-lubed cloth patch and a .445 swaged lead ball down the bore followed by a dash of FFFFg black powder in the flash pan gave me successful ignition on the first pull. I feel like I can improve the hang –time between flash and main charge by replacing the Pyrodex with real black powder – I just have to find a source.
The weapon put a deep dent in a 55 gallon burn barrel from 30' (right above the giant hole ripped by my .54 Yeager using 100 grains of powder). And I was surprised the sights were in the ballpark. I'll adjust them as I shoot the Kentucky some more.
I'm very pleased with this kit. I enjoyed the time spent working on it. It was fun to build and is fun to shoot.
Learning a little something every day,
Don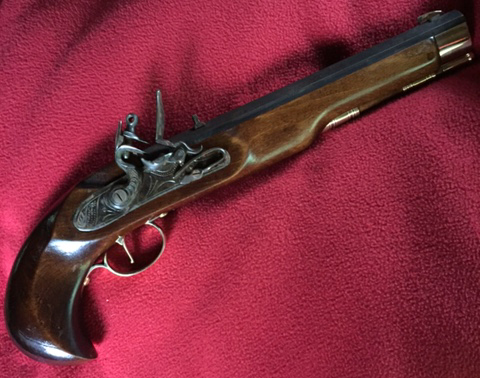 PHILS KENTUCKY PISTOL
Dear Don
First let me say I am very happy and satisfied with the pistol. You can see from the picture what it looks like and I fired it about 20 times and it went off each time. No hang fires. I used a 490 patched Roundball .015 patch 30 grains of 3f and 4 f in the pan. Next time I will sight it in.
Tips,
The first thing I did was assemble it. I found some fitting problems as follows,
1- trigger guard did not fit the inletting. I inletted the front end about a 1/4 in. This put the mounting hole past the hole in the trigger plate so i had to cut off the end of the plate and mount the guard to the stock with a wood screw.
2- the nose cap holes did not line up with the barrel holes so I removed about 1/16 from the cap.
3-did some minor inletting for the lock plate.
Other than that it was fun to build. It was rewarding to work out those few problems. I also built a loading stand and i will send you a picture later.
I plum brown the barrel and lock finished the stock with 7 coats of true oil applied with my finger lighty sanded with 200 grit between coats. I will recommend this kit to anyone.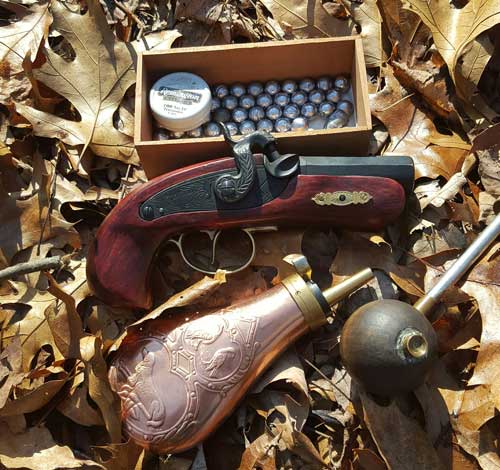 KYLE'S DERRINGER
Hello, I had purchased this kit and enjoyed every minute of owning it. It took me roughly two days to assemble. Also I had to do some alignment adjustments to the hammer so it would properly sit on the nipple. I have shot it numerous times and had no trouble with it. I will mainly use it for target shooting and just for fun shooting. After a few shots I found a .440 size round ball with a lubed patch with a charge of 20 grains works very well with this fire arm a fair amount of (boom) to it. I appreciate the opportunity of building this gun that your company   has provided and I look forward to future business with "the possible shop".  That you: Sincerely, satisfied black powder enthusiast.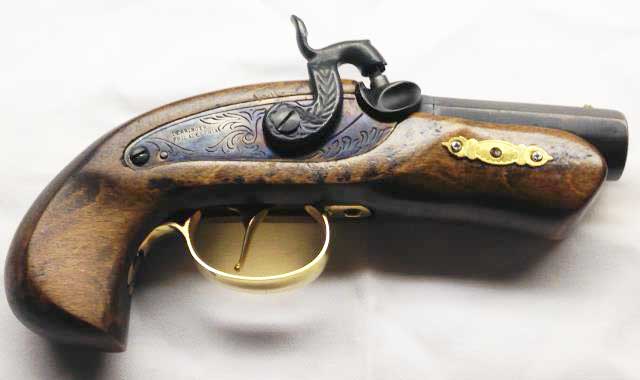 I purchased the Philadelphia Derringer kit from you on 9/27/2015. This is to let you know how it came out. There were a few problems with the fit of some of the parts that in some cases, required some major "tinkering" such as the alignment of the hammer with the nipple. The beautiful wood stock was so hard that, even with pilot drilling, the brass screws for the side plates stripped the slots.
I enjoy building guns and restoring old .22 rifles, so this challenge was lots of fun. Today I poured 28 grains of pyrodex and a .440 round ball in it and scared the dickens out of my wife when I fired it. To say the least, THIS IS A HOOT!
I'm sure I'll enjoy this for years to come.
Thank you. Sincerely, Carroll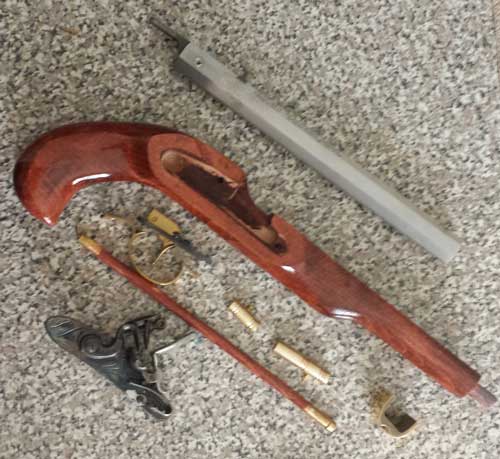 CURTS KENTUCKY PISTOL
Here is a picture of my Kentucky Pistol I recently purchased from you. The kit was surprisingly simple. Dry fitting only took a few hours. The longest and most tedious process was the placement of the rear and fore sights. The instructions that came with the gun explained ever step. I am very please with the finished product and am also happy with my whole experience with Possibles Shop. I have recommended you company and given your web site information to several people already.
Thank you again, Curt
BRADS PHILADELPHIA DERRINGER
I just came across the sheet for the Tips & Tells I got when buying my Philadelphia Derringer kit, so I figured I would write in for it.
TIPS
I had several problems with my kit, mainly the lack of instructions, and this being my first ever kit, I had no idea what I should start with. Basically, I overcame all of the problems through a lot of trial and error. Hardly any of the parts fit together properly, and as a result, I had to customize many of them and get along with what tools I had for that. A buddy of mine also got a kit, which was the flintlock Pennsylvania long rifle, and his parts all fit together and his kit even came with thorough instructions, so I was not surprised to discover that the Philadelphia Derringer kit has been discontinued by the manufacturer, likely because of how inconvenient and difficult it is to put together and finish.
TELLS
I have shot a few lead balls from my Philadelphia Derringer using 30 gram powder pellets, and they seemed to work well. Seeing as the gun also came with no firing specifications, I basically had to do some research on other models and base which load and cap sizes I should use with mine, and still unknowing as to if I am using the correct ones, they work nonetheless. Seeing how this pistol also is only accurate up to about 3 yards, I wouldn't hope to be able to kill anything with it on a hunt, so I basically built it as a novelty display item. The theme of the pistol is to commemorate the 150th anniversary of the assassination of President Abraham Lincoln, in which a pistol of the same model was used. I built the pistol for that reason and had hoped to have finished it in April of 2015 to meet that date, but I was just a bit late. I inset an original 1865 penny in the stock along with a 2015 penny next to it, and to match, recolored all of the brass fittings to copper. I also finished the stock with a dark cherry to complement the red coloration in the copper. I also burned a 150 into the back of the handle. Overall, through all of the barriers I faced with building this, I enjoyed it quite a lot, and do hope to build several more kits in the future. -Brad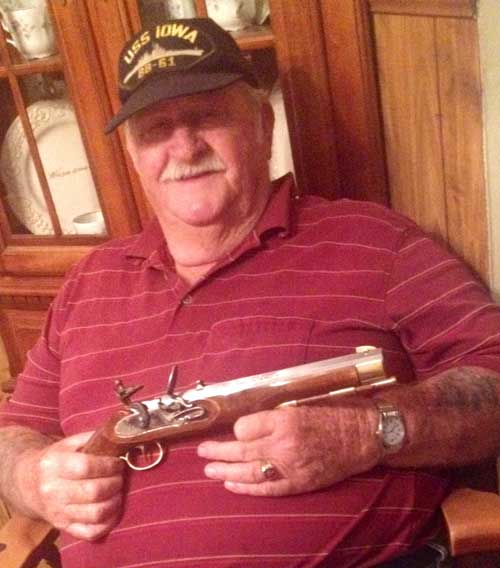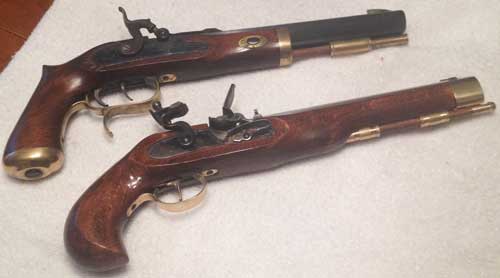 PROUD OWNER
Don,
Attached are some photos of the completed Kentucky pistol .50 cal. Flintlock I purchased for my father-in-law, Donnie. He had previously assembled another Traditions percussion pistol kit in the past. Notice the combined photo. He is quite the proud owner.

In assembly, he utilized a dermal tool on the wood to improve the setting of the workings, and did some fine file work for the sites. He made his own flints from some Dover flint we picked in some local fields.

In firing, he uses 30 grains of powder in the barrel, and 5 grains in the frizzen. He owns several percussion blackpowder rifles, but this is his first flintlock.

Like a child with Legos, the fun is in the building for Donnie. He is now building a display box for the Kentucky pistol. I am a member of the Col. Stephen Trigg chapter of the Sons of the American
Revolution. This flintlock conveniently fits the time period for our reenactments and Honor detail in Revolutionary War grave markings. I'll be convincing him of my need to borrow it from time to time

Thank you for marketing a quality product,
Dennis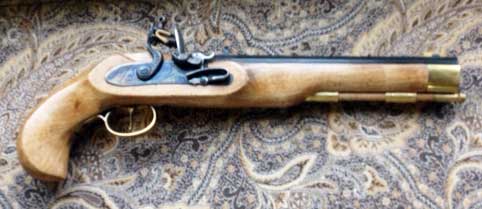 BILLS KENTUCKY FLINTER
Tips: Results of my amateur abilities - - -I would assemble the entire pistol including sights and nose cap before finishing any of the parts. I blued the barrel and finished the stock before assembly. Of course, the trigger guard didn't fit so there was reworking of the stock and then another finish on it. The nose cap had to be reworked seriously before the screws would reach the barrel to secure the barrel to the stock and the nose cap. So the barrel had to be refinished as well. It was my lack of experience that made the procedure much more difficult than it had to be.
I would not tighten the screws and bolts as tightly as I did originally. This is not an engine block where you torque them down very tightly. My inexperience showing here. I had trouble getting the ramrod into the gun because I had overtightened the screws holding the thimbles to the stock. I made many amateur mistakes.
Difficulties resulting from design and not my amateur abilities- - -It is very difficult to align the holes for the back thimble. It's kind of a blind alignment and tough to do. Same for the alignment and tightening of the screws for the nose cap, through the stock into the barrel. Adding to my struggle with the nose cap was the thickness of the stock at that part of the gun. The stock, where my nose cap was to be placed was way too thick and had to be seriously worked to get the screws into the barrel.
In both these paragraphs, I have intermingled the term screw for screws and for the bolts with heads designed to be tightened with a screwdriver.
Tells: It shot well. I used about 20 grains of pyrodex and a .490 round ball. I built it for a friend and he will use it primarily for display unfortunately. Flintlocks are just so enjoyable to shoot that they should never be relegated to a display only.
Enjoyed the process. I will enjoy the second one far more.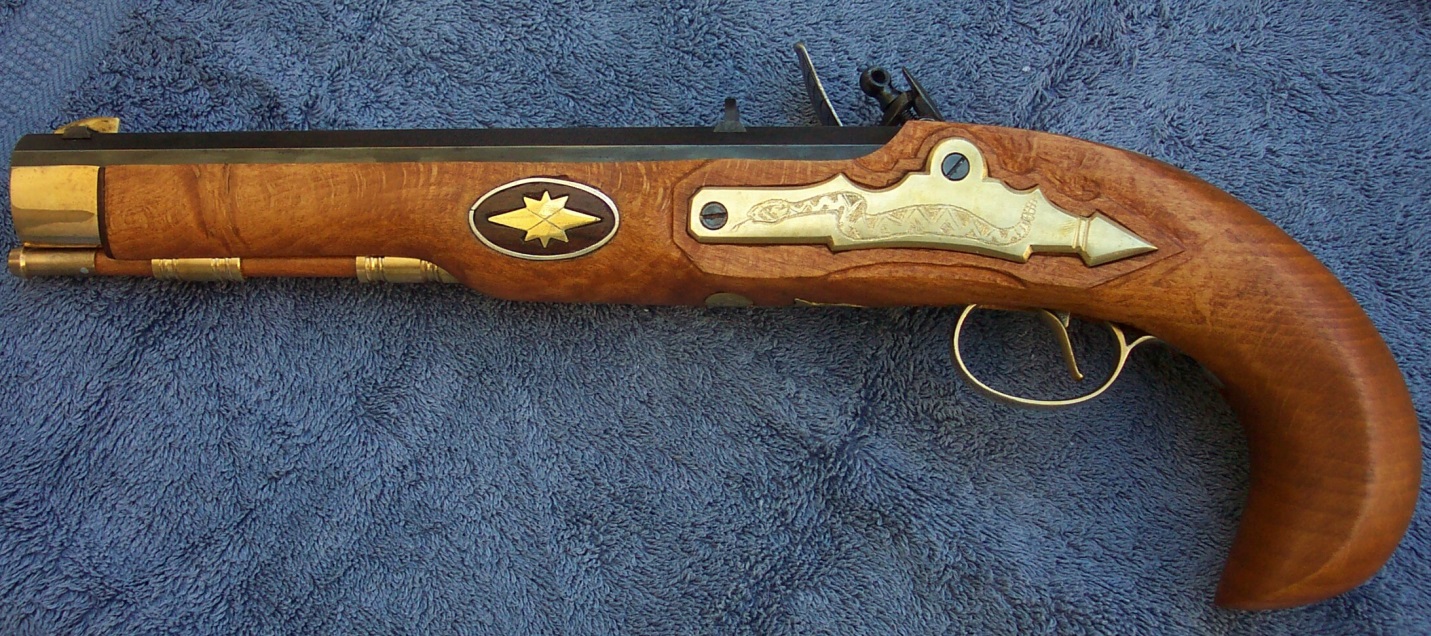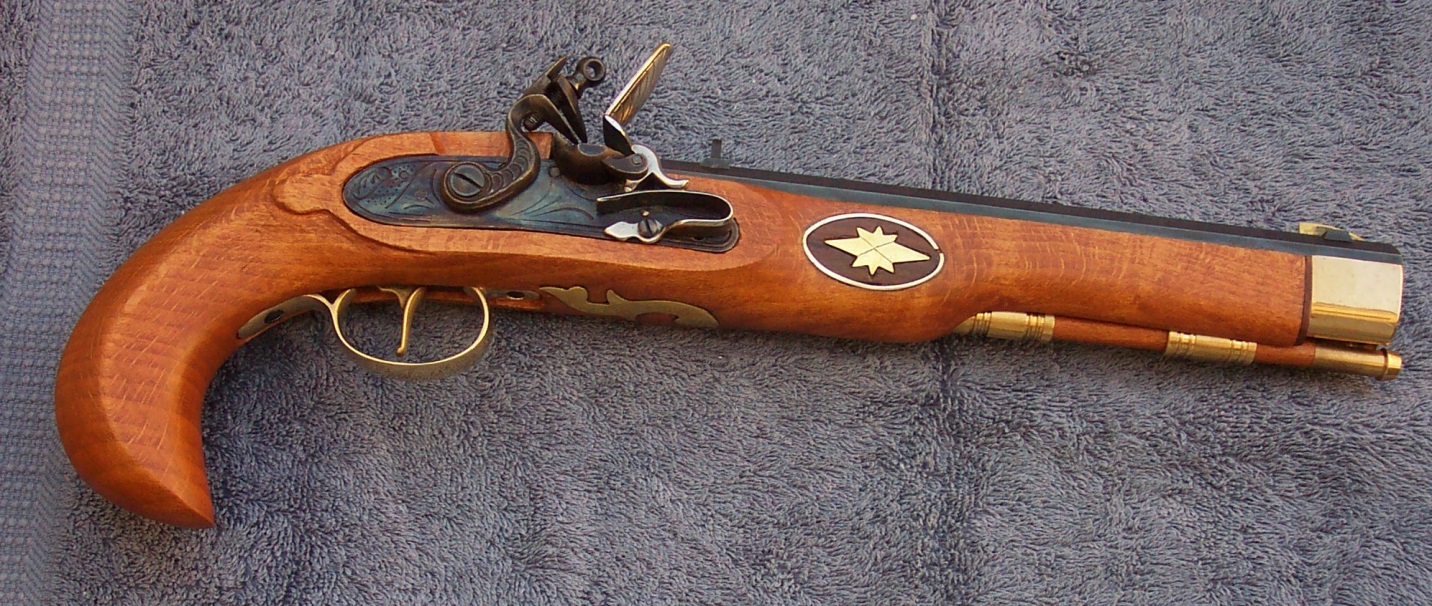 I finished my pistol kit over about 3 years, with long pauses in the work. The method of securing the barrel to the stock is weird, screwing the barrel through the nose cap and stock. In my kit, the stock was 1/8" too long, which would have left a gap between the stock and nose cap of that amount. So I cut the stock and had to devise a spacer and another stock extension to get it done, very tricky, but I got it to work. Also the stock wood is very hard, it is beech wood, difficult to carve and inlet. I inlaid rosewood ovals into the fore stock, with sterling silver wire and brass stars. I also added a side plate of brass, as I didn't like the buttons provided for the lock screws. A silver heart was cut and formed for a wrist inlay. Engraving was done with a Dermal tool and Swiss files. I used pure tung oil for the finish.  Overall it turned out very nice, the lock throws a nice
spark, but I have not fired it yet.
Brian.


KELLY'S KENTUCKY TRIO
Well Don, as promised, here are the pictures you asked for. Although in my opinion, these are very high quality guns, they are NOT for the beginner. The resourceful crafting that goes into making all the parts fit and work together is a real feat ever for someone with a creative background. All in all though, I truly enjoy the challenge of making a great looking gun and as a hobby, it fills my free time. As soon as I am ready, I'll let ya know what my next order will be.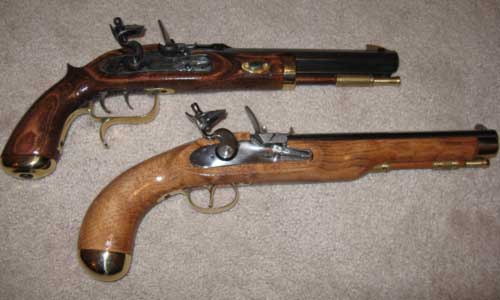 KELLY & JO ELLEN
A pair of Pistols to be proud of.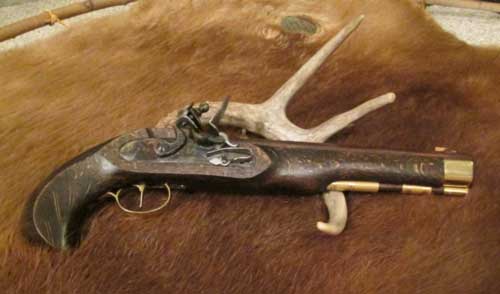 JASON'S
KENTUCKY FLINTLOCK PISTOL
Don, I just finished the Traditions Kentucky Pistol Kit and am very happy with it.  I am looking forward to shooting it soon.  The only real difficult part I had was getting the rust brown finish how I wanted it, but that's just because this is my first kit and the first time I tried to use a rust brown finish on anything.  That's al right though since this is going to be a working gun and see plenty of time in the woods.  I'm going to keep researching and experimenting on that type of finish since it is my favorite on these old guns.  Everything else went great and it was actually easier to put together than I thought it would be.  As soon as I save up some more spending money I'm going to order another pistol kit from you so I have a matched pair and hopefully, a Kentucky rifle kit to match the pistols someday.  Feel free to use any of the pics on your website.  Thanks again for the great service and products.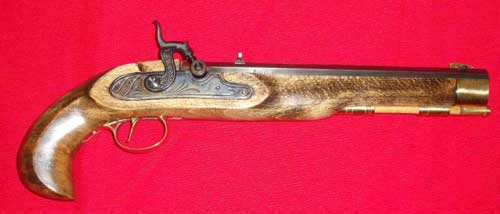 I finely finished my Kentucky pistol kit and included a photo. Now I am looking forward to purchasing and building another kit but haven't decided which one.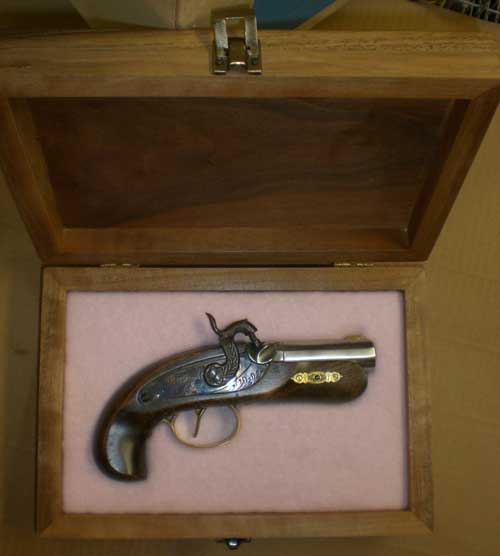 GEORGE'S DERRINGER
I built a display box from the last piece of walnut that I had left from a tree that was cut down in about 1978 when I was farming.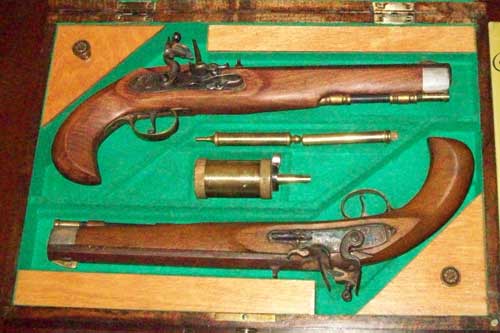 Don,
Back in June you requested that when I completed the Traditions Flintlock kit I had purchases from you that I send pictures and a write up on the project.  Well it is done and I am very happy.  Just for reference, the new pistol is the one at the top of the box.  It was enjoyable to build and the case with the two pistols will stay with the family.  Thanks for a great product.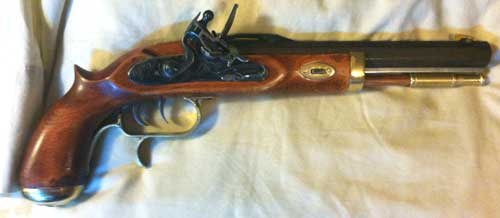 JASON'S TRAPPER PISTOL
Here is a picture of the Trapper pistol kit I bought from you. It looks nice and shoots great.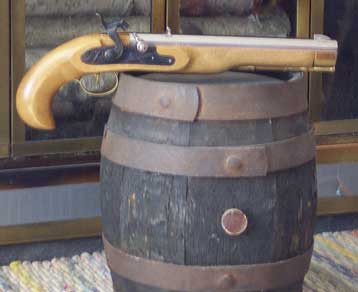 DICK'S .50 CAL KENTUCKY PISTOL
Don, Here is the finished Kentucky Pistol from the kit. I had the barrel nickel plated to make it easier to keep the rust from forming. It's the 50 cal. model and using 25 grains of Pyrodex RS, keeps all the shots in a 3 inch circle at 20 yards. Now that I have the adjustable powder measure, hope to improve on that some. Great product and easy to work with. By the way, the powder barrel is dated 1863. Just thought they went together pretty good. Dick

JIM'S TRAPPER PISTOL
Shoots Great. Jim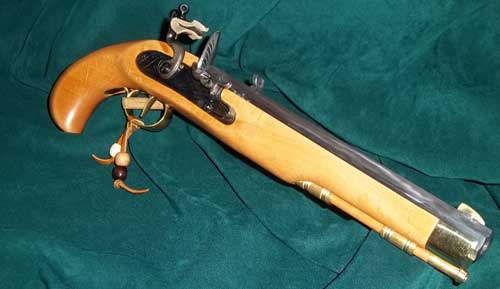 ARIE'S - KENTUCKY FLINTLOCK PISTOL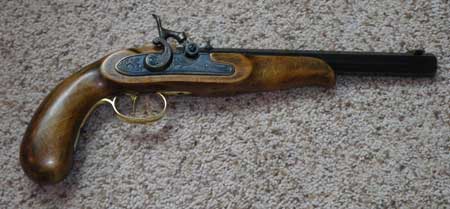 DAN'S CROCKETT PISTOL
Hi Don,
Well I finished the Crockett pistol.
The process of putting the kit together was very straight forward. I spend some time sanding the stock to allow proper fit of the side lock and barrel. Everything came together well and the instructions were easy to follow. Once the dry-fit was complete to my satisfaction, I disassembled the pistol and embarked on finishing the stock. I used the Miles Gilbert system for finishing the stock. I decided to go for a more rustic look and thus sanded the wood with progressively finer sand paper, finishing with 220 grit. I then filled the wood and "spot" sanded this to get the look I was after. I then finished the stock by adding 20 coats of finish followed by finishing the finish through polishing with rotten stone. For bluing, I utilized the Birchwood Casey system, which again, was very straight forward. Overall, the kit was easy to assemble and with some attention to detail during the entire process, I am very happy with the final product. I have not had the opportunity to fire the pistol yet but hope to in the very near future. Since this was my first attempt at doing something like this (assembling a this type of kit) I decided to start cheap and easy. Well, I am now thinking about moving to a Hawken style rifle! I am hooked!Dan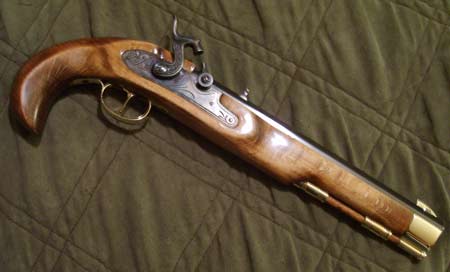 I shot it for the first time yesterday...nice 2in groups at 12 yds. The close up of the trigger guard area shows some of the detailing ...I polished and blued the metal that supports the trigger and even the screws showing through. All the brass was polished to a high shine as well. This was built from the Traditions kit and am now looking at the Hawken or the Kentucky rifle.
Thanks Don. Tom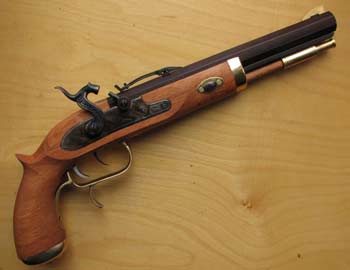 JOHN SIPLE - TRAPPER PISTOL
This went a lot faster than I thought it would. I actually finished the pistol kit in a weekend. I would strongly advise kit builders to take their time and work slowly though. There are many chances to screw things up. This Traditions kit had nicely finished brass and the barrel and lock fit well in the stock after a bit of work on the lock cutout. I blued the ends of the cut off lock screws and buffed the ramrod ferrule but the other metal work is straight out of the box. The trigger and lock were perfectly adjusted. Too bad I don't hunt.  This is the pistol with a browned barrel. I've taken it to the range twice now and it's a very accurate shooter, but rather heavy in the barrel so not easily held on target. also, 30 grains by volume is plenty, though some sources say the maximum load is something like 45 for this gun.
John